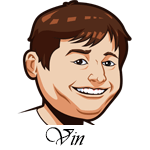 Follow @SBTSportBetting


[Get Exclusive Tips on our Patreon, Ad-Free
]
I have nine MLB tips for today on Patreon, four are available below.
There is no charge until July 1st if you sign up for Patreon today. That's an extra week of MLB, WNBA, F1, and golf tips you could be reading ad-free.
We are now posting some of our betting tips exclusively on
Patreon
, as well as posting exclusive betting tips there. Here is what you get by supporting us on Patreon:
Exclusive betting tips. Not just the tips omitted from these posts, but Vin will also be posting EVERY MLB System play and Graeme will be doing WNBA, Formula 1, and various non-EPL soccer tips.
Ad-free experience.
Priority e-mails; receive the e-mails as soon as the tips are posted rather than hours later.
Feeling good about supporting two guys who have worked their butts off writing sports tips on here for free for over 10 years. We promise only to spend it on beer and wings at our local sports bars!

New York Mets at Miami Marlins Betting Tips:
NYM – Taijuan Walker 2.88 ERA/3.17
MIA – Sandy Alcantara 1.72 ERA/2.84 FIP
I would list this one as a risky play because Alcantara is absolutely on fire of late. He has a 1.13 ERA/1.59 FIP over his past five starts and is coming off an eight inning, two run, eight strikeout performance against the Mets.
Walker has also pitched well of late with a 3.07 ERA/2.62 FIP.
So why the over? Well, both of these teams hit righties extremely well. The Mets have a 118 wRC+ against them on the season and it's very hard to shutdown a team in back-to-back starts like that. The Marlins have a 111 wRC+ against righties and they are also facing Walker in his next start.
I also have the Marlins Park as more friendly to offense than the Mets. The bullpens of each team have been average on the season with the Marlins struggling of late.
Mets/Marlins Over 7 Runs (-123)
Houston Astros at New York Yankees Betting Tips:
HOU – Justin Verlander 2.30 ERA/3.40 FIP
NYY – Luis Severino 3.27 ERA/3.72 FIP


Los Angeles Dodgers at Atlanta Braves Betting Tips:
LAD – Julio Urias 2.56 ERA/4.35 FIP
ATL – Ian Anderson 4.35 ERA/4.34 FIP
This is a very nice match-up for both teams. Anderson is hittable and the Dodgers are one of the more dangerous offenses in the league with a 116 wRC+ against righties.
Urias has a 2.45 ERA/4.15 FIP over his past five starts so he has been more lucky than good. The Braves offense absolutely crushes lefties with a 126 wRC+ against lefties.
Additionally, both teams come in red hot with the Dodgers at a 121 wRC+ over the past two weeks and the Braves at a 134 wRC+.
The System likes the over for game and F5, but I think the early is the better value.
Dodgers/Braves Over 5 Runs First 5 Innings (-105)
Oakland Athletics at Kansas City Royals Betting Tips:
OAK – Cole Irvin 3.14 ERA/4.02 FIP
KCR – Zack Greinke 5.05 ERA/4.62 FIP


Baltimore Orioles at Chicago White Sox Betting Tips:
BAL – Austin Voth 8.39 ERA/4.72 FIP (Opener)
CHW – Michael Kopech 2.38 ERA/3.49 FIP
The White Sox offense let us down yesterday, but today might be an even better match-up. Voth is an opener, but he's not that great. They can hit him. The Orioles bullpen has been good, but today will be a big ask on them. Overall, the White Sox have a 140 wRC+ over the past two weeks.
Kopech has really struggled of late with a 5.52 ERA/5.72 FIP over his past five starts. Homeruns have definitely been a problem for him and the Orioles offense has been hitting well of late.
Orioles/White Sox Over 8.5 Runs (-125)
Chicago Cubs at St. Louis Cardinals Betting Tips:
CHC – Kyle Hendricks 5.43 ERA/5.19 FIP
STL – Andre Pallante 1.69 ERA/4.02 FIP (Relief)


Bet Horse Racing - +£21,565.98 profit on £25/pt staking. Click for more details.
(Advertisement but we have tested it out and have been quite impressed with it)
Detroit Tigers at Arizona Diamondbacks Betting Tips:
DET – Rony Garcia 4.97 ERA/4.42 FIP
ARI – Merrill Kelly 3.46 ERA/3.26 FIP
This is a similar deal to the Athletics/Royals pick where I just don't believe in the offenses to do much damage.
Kelly is solid and has a 3.41 ERA/3.51 FIP over his past five starts. He keeps homeruns down which I like and he has a fantastic match-up here against the dirt worst offense in baseball. A 66 wRC+ against righties is so embarrassingly bad.
Garcia is a risk with a 6.38 ERA/5.13 FIP, but he has decent strikeout numbers and the D-backs strikeout a lot. Arizona also has just a 88 wRC+ against righties and a 74 wRC+ over the past two weeks.
The bullpen of the Tigers has been very good this season and extra good of late. While the Diamondbacks are about average over the last two weeks, but again – look who they are facing.
Tigers/Diamondbacks Under 8.5 (-125)
Cincinnati Reds at San Francisco Giants Betting Tips:
CIN – Graham Ashcraft 3.51 ERA/3.88 FIP
SFG – Alex Cobb 5.62 ERA/3.28 FIP


Follow @SBTSportBetting