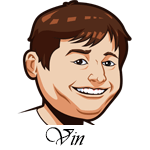 Follow @SBTSportBetting
A 1-0 record yesterday over at SBT. We lost our tip here on Wednesday.
I'm a little behind on updating the overall record, but we are definitely in a winning position thus far. I am going to tackle that at the end of the month.
I went to the Brewers/Mariners game yesterday as I've always been a Mariners fan and thought I'd take a look at the team. They didn't start Kyle Seager, one of my favorite Mariners, and the only other guys from last year's team were Dee Gordon, Dan Vogelbach and Mike Leake. It's crazy how much turnover this team has. Anyway, the Brewers won 4-2 after one big inning on Mike Leake.
The reason I bring this up is Mike Leake. How does he have numbers as good as he does? I mean, he's not great, but I swear this guy gives up a hit every single inning and the fact that he only has a 4.63 ERA/5.12 FIP is pretty impressive. He's not going to carry you to the championship or anything like that, but he can eat up innings and he hurts you – but not too bad. Baseball is hard.
Anyway, that's just a random thought I had watching the game yesterday. Let's get to the tips.
Atlanta Braves vs. New York Mets Betting Tips:
| | | | |
| --- | --- | --- | --- |
| | Team | Name | FIP- |
| AWAY | Braves | Mike Soroka | 71 |
| HOME | Mets | Jacob deGrom | 71 |
I love this pitching match-up. These two pitchers are like mirror images of each other. They have the matching 71 FIP- and then you have their home road splits that are just too perfect.
deGrom Home: 3.36 FIP
Soroka Home: 3.32 FIP
deGrom Away: 2.81 FIP
Soroka Away: 2.86 FIP
Throw in the relatively equal batting numbers and this has the making of a true coinflip game. The only problem is that these two pitchers aren't going to pitch the whole game. Their bullpens will enter at some point and the Mets bullpen has been a dumpster fire.
The pen has a 116 FIP- on the season and that number falls to a 169 FIP- over the past two weeks. The Braves offense is better against righthanders, both pitchers are better on the road, and the Mets pen is garbage. Great value here.
Bet Braves +128
St. Louis Cardinals vs. San Diego Padres Betting Tip:
| | | | |
| --- | --- | --- | --- |
| | Team | Name | FIP- |
| AWAY | Cardinals | Michael Wacha | 134 |
| HOME | Padres | Eric Lauer | 93 |
This is a pretty low line considering Michael Wacha's stats. He has a 5.59 ERA/5.81 FIP with bad walk numbers and a bad HR/9 rate. He's not a good pitcher. The Padres offense is hot right now with a 138 wRC+ over the past 14 days. While this ballpark does do a lot to suppress offense, I don't see it doing much to cover up the flaws of Wacha. He's hittable.
I like Eric Lauer here as well. He has a 4.32 ERA/4.03 FIP on the season and has been better in his home starts. I like this match-up for him and the Dads offenses has been great lately. The two bullpens are about a wash so I feel safe in going for the Padres here.
Bet Padres -114
Follow @SBTSportBetting