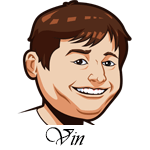 Follow @SBTSportBetting
A 3-0 record last night! 12-2 since Sunday! We are absolutely on fire right now and the system is really paying dividends at the moment. Since June 11th when I first started using the system we have a 33-19 record for +7.05 units. These are good times. Tell your friends, we're making money.
All of our games were kind of close last night, but that is to be expected when we are taking the moneylines. The Mariners had a ton of hits and runners in scoring position, but still needed extra innings to put away the Orioles. That's just kind of the team that they are right now and they are going to make us nervous when we play them.
The Nationals/Phillies game ended up a lot closer than it should've. The Phillies had a 4-1 lead heading into the ninth and the bullpen gave up two runs to make this one a little too close for comfort. They did the job though and grabbed the final out, thankfully.
I really thought the Red Sox were going to take advantage in Jaime Barria last night, but it turned out they did most of their damage against the bullpen. The Angels offense was punchless and the Sox won 4-2.
My watched totals went 1-1 against yesterday. Today's totals to watch are:
Under on Nationals/Phillies
Over on Giants/Diamondbacks (I just don't see this one)
Under on Indians/Athletics (my personal favorite of the three)
On to today's tips!
[text-blocks id="137″ slug="email"]
Los Angeles Angels vs. Baltimore Orioles Betting Tips:
This isn't the type of game I would normally target, but the system sees something in Felix Pena here and who am I to doubt it after the week that we've had? Pena has a 5.40 ERA/5.33 FIP/3.80 xFIP so there is signs of better luck coming his way. He has an obnoxiously high HR/FB rate which should come to earth at some point. The thing I like about him is his high strikeout rate (10.8 K/9) and the Orioles strikeout nearly 25% of plate appearances. They have a really low OPS against righties and this just feels like a good spot for Pena.
The Angels have a .745 OPS/107 wRC+ against righties and David Hess is bad. Not bad like Pena, but bad in a this is who he is kind of way. He has a 5.44 ERA/6.07 FIP with high walks and low strikeouts. He has to face Mike Trout today. That should be enough.
Bet Angels -146 at: [text-blocks id="87″ slug="bet-mlb"]
New York Yankees vs. Boston Red Sox Betting Tips:
This is a clear home/road play. Eduardo Rodriguez has an FIP nearly two runs higher on the road while the Yankees have a huge .810 OPS at home. CC Sabathia is no great shakes, but the Red Sox offense has been worse on the road and they are a much different team against lefties. The Yanks bullpen is stronger and the home field advantage is just enough to make this one a value.
Bet Yankees -125 at: [text-blocks id="87″ slug="bet-mlb"]
[text-blocks id="110″ slug="middle-ad"]
Arizona Diamondbacks vs. San Francisco Giants Betting Tips:
Andrew Suarez is having a great rookie year, but he has a 6.18 ERA/4.04 FIP on the road this year and is facing one of the hottest offenses in the game right now. Arizona has a huge .774 OPS/108 wRC+ against lefties this year and this could be a bad day for Andrew.
Patrick Corbin has been a strikeout machine this year with 11.61 K/9 and an awesome 3.24 ERA/2.85 FIP. San Fran has a .711 OPS/95 wRC+ against lefties this year. I'm a big fan of the Diamondbacks tonight.
Bet Diamondbacks -145 at: [text-blocks id="87″ slug="bet-mlb"]
[text-blocks id="418″ slug="best-sportsbooks"]
Follow @SBTSportBetting