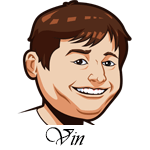 Follow @SBTSportBetting


[Get Exclusive Tips on our Patreon, Ad-Free
]
4-2-2 last night.
45-33 over the past two weeks. 147-123 for the season.
It really should've been 5-1-2, but the Padres blew it big time late. They were up 6-0 heading into the 7th and allowed four runs, another two in the 8th, and one in the 9th to lose it. At one point the Diamondbacks win expectancy was down to 1.7%! Unbelievable.


Eight tips for today's slate on Patreon, five are available below.
There is no charge for Patreon until July 1st. That payment gets you the rest of June and all of July when I will have near daily MLB tips. This is go-time for baseball so if you like betting baseball, now is the time to try it out.
Heads up as the first three tips start in just a few hours.
We are now posting some of our betting tips exclusively on
Patreon
, as well as posting exclusive betting tips there. Here is what you get by supporting us on Patreon:
Exclusive betting tips. Not just the tips omitted from these posts, but Vin will also be posting EVERY MLB System play and Graeme will be doing WNBA, Formula 1, and various non-EPL soccer tips.
Ad-free experience.
Priority e-mails; receive the e-mails as soon as the tips are posted rather than hours later.
Feeling good about supporting two guys who have worked their butts off writing sports tips on here for free for over 10 years. We promise only to spend it on beer and wings at our local sports bars!

San Diego Padres at Arizona Diamondbacks Betting Tips:
SDP – Mike Clevinger 3.52 ERA/3.83 FIP
ARI – Madison Bumgarner 3.75 ERA/4.82 FIP
The Padres bullpen did us dirty last night, but this match-up looks too good to pass up.
Madison Bumgarner is a pitcher I love to target against teams that hit lefties well. He's low strikeouts and he gives up homeruns. The Padres have a 108 wRC+ against lefties on the season and hit the ball very well last night.
Clevinger has only made a handful of starts, but he's been solid this season. The Diamondbacks are below average against righties with a 88 wRC+ against them on the season and they are cold of late with a 84 wRC+ over the past two weeks.
Padres Moneyline (-126)


Detroit Tigers at San Francisco Giants Betting Tips:
DET – Rony Garcia 4.57 ERA/4.34 FIP
SFG – Alex Wood 5.05 ERA/3.62 FIP
We got a win here last night with the Tigers getting enough runs. They did that because they have a much better offense against lefties and the Giants bullpen is struggling right now. Both of those things are still true today and Wood isn't as good as Rodon.


Rony Garcia just isn't good and the Giants offense is great against righties. They have a 107 wRC+ against them on the season. This tip is mostly the Giants, but the prices on the -0.5 and moneyline are too high.
This park is designed to limit the effects of wind, but winds blowing out to left at 11 MPH can't hurt.
Tigers/Giants Over 8 Runs (-116)


Baltimore Orioles at Seattle Mariners Betting Tips:
BAL – Austin Voth 7.81 ERRA/4.55 FIP (Opener)
SEA – Chris Flexen 4.31 ERA/4.65 FIP
Voth has had some success as an opener, but he's not a good pitcher and two good starts is not going to change my mind there. I know that he can be hit and the Mariners have hit righties well this season.
Flexen is not a pitcher I love to back, but he's been better over the past five starts and his home numbers look much better than his road ones. The Orioles have just a 93 wRC+ against righties on the season.
Mariners First 5 Innings (-135)


Boston Red Sox at Toronto Blue Jays Betting Tips:
BOS – Nick Pivetta 3.25 ERA/3.56 FIP
TOR – Alek Manoah 2.05 ERA/3.04 FIP


Atlanta Braves at Philadelphia Phillies Betting Tips:
ATL – Kyle Wright 3.19 ERA/2.90 FIP
PHI – Ranger Suarez 4.23 ERA/4.32 FIP
The Braves are crushing lefties this season with a 123 wRC+ against them on the season. Ranger Suarez survives by keeping the ball in the park, but he doesn't strike many people out and walks a ton. Relying on contact against an offense like this is a recipe for disaster. Winds blowing out to center at 9MPH can't hurt.
Wright has pitched well over his past five starts with a 4.02 ERA/3.04 FIP. He's been a bit unlucky, but this match-up should help with that. The Phillies have just a 98 wRC+ against righties this season and they are playing without Bryce Harper. The Braves bullpen has outperformed the Phils of late as well.
Braves Moneyline (-133)
Bet Horse Racing - +£21,565.98 profit on £25/pt staking. Click for more details.
(Advertisement but we have tested it out and have been quite impressed with it)
Minnesota Twins at Cleveland Guardians Betting Tips:
MIN – Dylan Bundy 4.80 ERA/4.42 FIP
CLE – Cal Quantrill 3.76 ERA/4.38 FIP


Bet Horse Racing - +£21,565.98 profit on £25/pt staking. Click for more details.
(Advertisement but we have tested it out and have been quite impressed with it)
Miami Marlins at St. Louis Cardinals Betting Tips:
MIA – Sandy Alcantara 1.95 ERA/3.03 FIP
STL – Andre Pallante 2.03 ERA/4.29 FIP
Alcantara is a good pitcher that has been pitching even better of late. He has a 1.86 ERA/2.67 FIP over his past five starts with a big groundball rate.
It never fails to surprise me when I see the Marlins offense with a 110 wRC+ against righties. I'm just so used to this team being a below average offense from the past few years, but they have been getting it done. I like their chances against Pallante who has a 2.57 ERA/4.80 FIP as a starter.
Marlins First 5 Innings (-130)


Cincinnati Reds at Chicago Cubs Betting Tips:
CIN – Hunter Greene 5.66 ERA/5.71 FIP
CHC – Justin Steele 4.59 ERA/3.60 FIP


Follow @SBTSportBetting