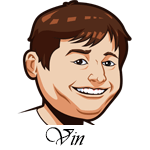 Follow @SBTSportBetting
A 1-2 record last night.
The Cubs and Mets took a bit longer than I'd have like, but they easily went over with a 7-4 Cubs win. I wrote in the tips that I thought the Cubs would win and I wish I'd have actually gone with that play instead of just thinking it.
The weather and starting pitching match-up felt like a natural first half under in the Twins/Indians game, but Carlos Carrasco didn't have his best stuff and this one was lost early. Like real early, second inning. I hate this result as I was choosing between this and another game that wasn't even remotely close.
In our other loss of the night the good version of James Taillon showed up and the Pirates beat the Cardinals 4-0 in St. Louis. While Miles Mikolas took his first loss of the season. Sometimes, the bats just aren't there.
A full weekend of games is ahead of us though so let's shake it off and get back on track.
[text-blocks id="137″ slug="email"]
Detroit Tigers vs. Toronto Blue Jays Betting Tips:
Here's something I haven't said all season: I like the Tigers today.
Matt Boyd isn't starting to look pretty good and he's only allowed 3 or more runs in three of ten starts this season and has never allowed over four runs in a game. He has a 3.00 ERA/3.49 FIP and faces a Jays offense that has had troubles with lefties this year, just a .694 OPS.
JA Happ goes for the Jays and while he's been good over his past few starts, he faces a Tigers offense that is excellent against lefties. They have a .790 OPS and a really low strikeout rate against lefties which goes against Happ's strengths. In a lot of these games I'm just looking a pitcher with a lower FIP, an offense that hits poorly against that handed pitcher to go against and an offense that hits well against that handed pitcher to pick. This one checks all those boxes. Let's go with Detroit.
Bet Tigers +122 at: [text-blocks id="87″ slug="bet-mlb"]
Oakland Athletics vs. Kansas City Royals Betting Tips:
My only hope here is that the hitters from Oakland aren't tired from all the runs they scored last night. Trevor Cahill should put on a show here. He has a 2.25 ERA/3.13 FIP on the year and goes against a Royals offense with a .692 OPS against righties this year. I like him a lot and will be doing a FanDuel entry with him today.
Jason Hammel has a 5.23 ERA/4.12 FIP on the year and the A's are top ten in OPS against righties. This one could get ugly.
Bet Athletics -1.5 (+105) at: [text-blocks id="87″ slug="bet-mlb"]
Houston Astros vs. Boston Red Sox Betting Tips:
This one is a bit of a risk, but I love the way Justin Verlander has played this season and fully trust the Astros offense. The Red Sox are one of the top hitting teams against right handed pitchers, but as we saw last week against the Yankees that just doesn't matter to Verlander. He's only allowed 10 earned runs all season and only seven in his last ten starts. The Red Sox are great, but Verlander might be better
I like the match-up of the Astros .782 OPS against David Price here. Price is carrying a 4.04 ERA/3.78 FIP on the year and his walks are much higher than you'd expect. I see the Astros getting the lead early and not letting it up. I'm laying the runs.
Bet Astros -1.5 (-115) at: [text-blocks id="87″ slug="bet-mlb"]
Follow @SBTSportBetting