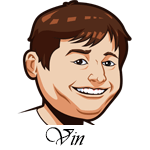 Follow @SBTSportBetting


[Get Exclusive Tips on our Patreon, Ad-Free
]
Three MLB tips and three NBA Finals tips on Patreon, two are below.
It's a new month so now is the best time to sign-up for Patreon. I'll have tips for the NBA Finals and MLB nearly every day. Graeme has you covered for Formula 1, PGA, WNBA, and much more. A great value at $11.
We are now posting some of our betting tips exclusively on
Patreon
, as well as posting exclusive betting tips there. Here is what you get by supporting us on Patreon:
Exclusive betting tips. Not just the tips omitted from these posts, but Vin will also be posting EVERY MLB System play and tips for every NBA Playoff game on there, and Graeme will be doing various non-EPL soccer tips.
Ad-free experience.
Priority e-mails; receive the e-mails as soon as the tips are posted rather than hours later.
Feeling good about supporting two guys who have worked their butts off writing sports tips on here for free for over 10 years. We promise only to spend it on beer and wings at our local sports bars!

San Francisco Giants at Miami Marlins Betting Tips:
SFG – Alex Wood 4.81 ERA/3.61 FIP
MIA – Sandy Alcantara 2.00 ERA/3.25 FIP


Seattle Mariners at Baltimore Orioles Betting Tips:
SEA – Chris Flexen 4.47 ERA/5.07 FIP
BAL – Jordan Lyles 4.26 ERA/4.06 FIP
Robbie Ray had a rough start yesterday as he was clearly not himself from the start. The System still likes the Mariners though and we're going with them again here.


Lyles is an extremely hittable pitcher and the Mariners offense is very good. They have been hitting the ball well over the past two weeks and they have a lot of power.
Flexen is nothing special and has struggled early. He's a risk, but going forward he should be slightly better than Lyles. With the Mariner offense being much better than Baltimore's, he's worth that risk.
Mariners First 5 Innings (-110)


Atlanta Braves at Colorado Rockies Betting Tips:
ATL – Ian Anderson 4.34 ERA/4.72 FIP
COL – Austin Gomber 5.51 ERA/4.33 FIP


Bet Horse Racing - +£21,565.98 profit on £25/pt staking. Click for more details.
(Advertisement but we have tested it out and have been quite impressed with it)
Boston Celtics at Golden State Warriors Game 1 Betting Tips:
This should be a great series. These are the two teams that absolutely deserve to be here and they have been the two best defenses. I have the series going at least three games.
For the winner, I am going with the Warriors. They have been here, they know what it takes to win, and they really want to win. I'm sure the Celtics want to win, but I don't think they know what it takes just yet.
The thing I can't let go of is the end of game seven against Miami. They had a huge lead and were in full-on pop the champagne mode as long as they protected the ball. Instead, they did the complete opposite and nearly had one of the biggest playoff collapses of all-time. One made three from Miami in the last few minutes and who knows if we're even talking about the Celtics at all right now.


Boston is in for a rude awakening tonight. Is their defense great? Yes, but they haven't seen anything close to what the Warriors are. The Nets were a mess, they didn't have to face Khris Middleton in the first round, and the Heat had a ton of injuries and a slow offense.
The Warriors are nothing like those teams on offense. They have a ton of threats and there is no true weakness when they have the ball. They have a lot of players who can not only make shots, but make them from anywhere on the floor.
Rest won't be too much of a factor here with Boston last playing on Sunday. That said, Golden State has been off since the 26th and they expected Boston here. They might be better prepared for this one.
The Celtics are great, but I don't think we see that greatness tonight.
TWO UNITS: Golden State -3.5 (-115)


As is tradition, I will also be betting two player props tonight at a half unit each.


Bet Horse Racing - +£21,565.98 profit on £25/pt staking. Click for more details.
(Advertisement but we have tested it out and have been quite impressed with it)
Follow @SBTSportBetting