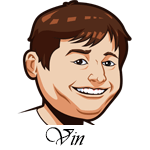 Follow @SBTSportBetting
The NCAA basketball tournament resumes tonight with four sweet sixteen games. Top seeded Kansas and Oregon are in action as well as two #2 seed versus #3 seed match-ups. The South and West regions are all about chalk with Maryland, a five seed, being the lowest seed to make it to the round of sixteen. The Midwest and North regions, which play tomorrow, are where the Cinderellas play with a ten versus eleven match-up and a six versus seven match-up. I'd love to see one of those teams advance, but for all of the NCAA's flaws in selection they usually get the top seeds right.
The game to watch tonight is Texas A&M vs. Oklahoma. Buddy(!) Hield is probably the NCAA Player of the Year and he's put up some big numbers in this tournament including 29 points in the second half in the last one. He's a great player, but in a lot of ways he's Oklahoma's only player. Texas A&M has length all around the wings that can shut them down which should put even more pressure on Buddy to get things done. This is going to be fun.
Oregon and Duke should be another fun game as Oregon is the higher seed, but Duke is Duke. With Grayson Allen and Brandon Ingram, Duke has two of the best players in this tournament and the possible number one pick in Ingram. They lack a little bit in the size/rebounding department, but with Coach K's squad you just never know.
We also have some good NBA match-ups out west with the Jazz fighting for their playoff lives against the Oklahoma City Thunder and the Trailblazers doing the same against the Clippers. Seems like every night in March is a great night for basketball.
Notable Upcoming Bets:
NCAA Basketball Betting Tips:
This is going to sound weird, but doesn't Oregon versus Duke feel like the game we see Grayson Allen cry? In the ACC tournament he was absolutely heartbroken after his team lost to Notre Dame and this one could be his last game for the Blue Devils if they lose. Duke is just 1-5 as an underdog this season which tells me that they are well scouted by the bookmakers who only put them as underdogs when they truly are. The rebounding will be the story of this one and I think Oregon -3 beats them on the boards and on the scoreboard. Let the crying begin.
Texas A&M has the NBA size length and I think they will cause some serious problems for Oklahoma tonight. I could see a huge game from Buddy Hield, but ultimately I don't think it matters as the defense of A&M will tell the story in this one. Take Texas A&M +2.5 before it jumps down.
Kansas -6 is the best team in this tournament. See why tonight.
NBA Betting Tips:
Portland has struggled in March and they've really struggled on back-to-backs, going 5-11 thus far on the season. The Clippers will be looking for a win tonight after getting blown out by the Warriors last night and I think this is one of the easier bets on the board tonight. Clippers -4.5.
As the Utah Jazz fight for a playoff spot, they've really been ramping up their defensive intensity over the past handful of games. They haven't allowed 100 or more points from the opposing teams since March 9th against the Warriors and they've gone under the posted total in six straight games. I'm not saying they will beat the Thunder tonight, but they will impose their will and this one will go under 198.
Follow @SBTSportBetting