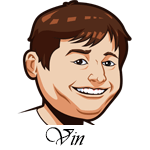 Follow @SBTSportBetting
A 2-0-1 day yesterday brings us to 5-1-1 over the first two days of the season. Wonderful! I couldn't be more excited.
Yesterday was not without drama though. It took the Pirates 13 innings to get us the win in their game and even that took a reviewed play at the plate that overturned the winning run by the Tigers to get it that far. I wouldn't even have been mad if they dropped this one as it was such great drama.
We also laid the -1.5 for the Nationals against the Reds. Final score? 2-0. Sweating til the final out, but we pulled it off. The Braves and Phillies scored exactly 9 when we had the over of nine for the push.
Yesterday we saw just three overs, seven unders and one push. That's the early April type of games we were looking for. Pitchers are almost always ahead of hitters and baby, it's cold outside. We will see some homerun fests, but with the weather and the strikeouts up I still tend to lean towards unders in most of these games. Let's take a look and see what we have for today's games.
[text-blocks id="137″ slug="email"]
Washington Nationals vs. Cincinnati Reds Betting Tips:
We saw what Max Scherzer could do yesterday and now it's Stephen Strasburg's turn. Yesterday saw Scherzer tie Strasburg's Nationals record for strikeouts on Opening Day and I wouldn't be surprised to see Starburg return serve. Outside of Joey Votto, you can really rack up the strikeouts on this Reds team.
The Reds got a big game from Homer Bailey yesterday and I'm even more excited for today's starter, Luis Castillo. He pitched just 89 innings last year, but he had a 3.12 ERA/3.74 FIP with 98 strikeouts in 89.1 innings. He could have a big year this year and he has a big time fastball.
Both of these teams had trouble swinging the bat yesterday and I'm expecting more of the same today. We're going under on this one.
Bet Reds/Nationals Under 8 Runs at: [text-blocks id="87″ slug="bet-mlb"]
Detroit Tigers vs. Pittsburgh Pirates Betting Tips:
The Tigers showed more offensive ability than I was expecting yesterday and Miguel Cabrera looked solid. The thing that I like about them today is that they have Michael Fulmer on the mound going for them. Fulmer is a very solid pitcher who holds a career 3.45 ERA/3.71 FIP with solid peripheral numbers. This season is basically an audition for him to go to a better team in a trade so I am expecting a big year from him
The Pirates send Trevor Williams who is decent, but I think he'll get hit and he won't last long. Both of these bullpens should be tired after yesterday's marathon so whatever starter last deeper could be the difference. I think that's Fulmer.
Bet Tigers -129 at: [text-blocks id="87″ slug="bet-mlb"]
Seattle Mariners vs. Cleveland Indians Betting Tips:
If I liked the under on Opening Day between these two teams, I love it today. James Paxton and Carlos Carrasco are sleeper Cy Young candidates and two of my favorite young pitchers. Both of these guys should rack up the strikeouts today. They had the day off yesterday so there might be a little rust on the hitters and the bullpen should be strong for both. This is an easy pick for me.
Bet Indians/Mariners under 7 runs at: [text-blocks id="87″ slug="bet-mlb"]
[text-blocks id="110″ slug="middle-ad"]
Follow @SBTSportBetting