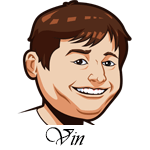 Follow @SBTSportBetting
An 0-2 last night.
Hey, good to get that out of the way early. With 162 games per team in a season, a day like this is going to happen. There is just too much variance in baseball for a couple losses to bring us down. Let's take our lessons and move on.
The Blue Jays/Tigers over let us down again as the Tigers offense was just anemic. The pitching side on both teams pointed towards the over. Aaron Sanchez didn't give up any runs, but he did only give five and allow three walks in his time. He just didn't give up any runs. I think we'll wait til these teams play other teams who can take advantage before doing this one again. Talent matters, especially on offense.
The Astros seem to be going through a bit of a slump right now. They only managed eight hits in their game against the Rays. Collin McHugh was solid in his start, but the offense and bullpen did him no favors. The team should get a boost with Carlos Correa expected to make his debut today.
A bunch of early games today so doing the tips early as well.
Colorado Rockies vs. Miami Marlins Betting Tips:
This game is right on the threshold as high as I like to go in moneylines, but I really am liking the Rockies here. Jon Gray had a rough year last year with bad luck, but he has the big time stuff and I think he could have a great season this year. He had a 5.12 ERA/4.08 FIP/3.47 xFIP that really shows how unlucky he was with his BABIP (batting average on balls in play) and LOB% (left on base percentage). I'm expecting his ERA to be closer to that last number this season. He has big time strikeout stuff and the match-up against this offense is great.
Sandy Alcantara made only six starts last year, but he was just the opposite. He had a 3.44/4.75/5.16 pitching line and just like most of this Marlins team, I don't think much of his chances this year. This is a good value on the Rockies.
Bet Rockies -150
New York Mets vs. Washington Nationals Betting Tips:
The Mets have looked good this season, but I expect their offense to struggle against lefties this season and Patrick Corbin is a great one. Robinson Cano and Michael Conforto are huge to this team and their splits against lefties aren't great. Corbin is great though. He had an awesome 3.15 ERA/2.47 FIP last season with 11+ K/9. He could have an even better year this year as he moves away from Arizona into the more pitcher friendly Nationals home.
Zack Wheeler is a good pitcher and I expect him to acquit himself well today. He had a 3.31/3.25 last season and he should be good again this year. I just think the Nationals will acquit themselves well here and Corbin has a high potential to dominate this one.
Bet Nationals -150
Milwaukee Brewers vs. St. Louis Cardinals Betting Tips:
Both of these teams have been hitting the long ball well in the first three games of this series and I expect that to really come to a head here.
Last season Michael Wacha had a 3.20 ERA, which hid his 4.12 xFIP and 47.2 hard hit rate. The Brewers are a good offense in a homer friendly park that could put a hurt on him today.
The same can be said for Corbin Burnes. He had a 2.61 ERA/3.79 FIP as a reliever last season and was very lucky in BABIP and LOB%. He's making the conversion from reliever so he shouldn't last long here and the great Brewers bullpen is obviously weakened without both Jeremy Jeffress and Corey Knebel.
Expect runs, bet the over.
Bet Cardinals/Brewers Over 8 Runs
Follow @SBTSportBetting