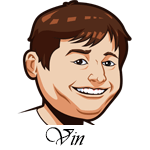 A 1-1 record last night.
A perfect night as ruined by the Boston Celtics. And I do mean ruined. The Celtics were up 84-67 after three quarters and they just needed to hold on to get us the win. Instead, they let Caris LeVert turn them into mush. The Nets finished the fourth quarter 51-34 to force overtime and then went 11-2 in overtime. 62-36 between fourth quarter and overtime is just embarrassing, especially at home.
The Raptors were able to salvage things for us with a 123-114 road win at the Suns. They were down at the half, but showed up big in the second half to take this one. What's the difference between these two games? Defense. The Raptors needed to get back in and they ramped up their defense. The Celtics gave up 51 points in a single quarter! Pascal Siakam had a big game here with 33 points.
The sad thing is that Celtics looked like they might be a good play tonight, but after last night? No way. (It doesn't help that Kemba Walker, Jayson Tatum, Marcus Smart, Gordon Hayward, and Jaylen Brown are all either doubtful, questionable, or out.)
Notable Upcoming Bets:
Oklahoma City Thunder at Detroit Pistons Betting Tips:
The Thunder are good. The Pistons are so very bad. That's what's going on in this one.
Detroit is without Derrick Rose, Luke Kennard, Bruce Brown, Blake Griffin, and basically anyone else you've heard of. Brandon Knight is questionable. This is a team being held together by sticks right now and they could care less about playing winning basketball here. They want a lottery pick, they want to rebuild, and they don't care about this win. A spread under ten is a gift.
Oklahoma City is one of the best stories of this season. They are 17-11 on the road this season including a perfect 7-0 as a road favorite. They are on a back-to-back tonight where they have 5-4 record on the season. This is a big game for them two. After winning five straight, they lost two tough games to the Bucks and Clippers. They should be looking to get back on track here and everything about Detroit says that they will let them do just that. I'm surprised this line isn't double digits and I am all over it at this number.
Orlando Magic at Miami Heat Betting Tips:
Miami has been one of the best home teams this year with a 26-4 record and they get a great match-up with the Orlando Magic here. The Heat have won their last three, all at home, including an impressive win against the Milwaukee Bucks. This team is starting to get healthy and Jimmy Butler should be playing tonight. They are a tough out at home and should continue their run here as they are still in play for a top-3 seed.
While the Magic have lost their last two games and are feeling the injuries right now. Aaron Gordon is listed as questionable here while Jonathan Isaac and Al-Farouq Aminu are out. On the season, the Magic are 11-19 in road games with a terrible 3-16 record as a road underdog. They are just not a good team and there is not much to get behind here.