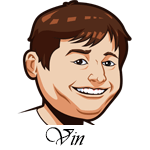 Follow @SBTSportBetting
A very weird night last night. I'll leave it up to one of our commenters in yesterday's post to explain:
Wow, weird day of baseball!
O's beat Yanks
Blue Jays beat Red Sox
Royals beat Indians
Marlins beat Braves
Rangers beat Astros
Twins beat Angels
Reds beat Dodgers
Just one of those days…. not much analysis is needed, just gotta love on.
Thanks, TRM.
For the night games, underdogs went 9-4 with five of those being +185 or better. Like we said, weird night.
The toughest loss had to be the Astros against the Rangers. Being on the wrong side of a 1-0 game is always tough. Especially when one of the best offenses in baseball gets no hit.
Or maybe it was the Reds losing to the Dodgers. Kenta Maeda and Matt Harvey did the exact flip flop of what is to be expected of them. Harvey allowed just one hit in four innings while Maeda allowed 9 hits and 5 runs in just 4 2/3s.
The Braves were also knocked around by the Marlins. Which, that is always shocking. Miami winning? What?
Shake it off. That was probably one of the weirdest night of results we'll see all season. There's a reason they play 162 games in this league and that's to balance out goofy nights like that.
[text-blocks id="137″ slug="email"]
Seattle Mariners vs. Detroit Tigers Game 1 Betting Tips:
I wanted to bet this one yesterday and as long as it stays dry I'll get the chance to today.
Marco Gonzales has had some weird results this year, but he might be turning into a decent pitcher. He's got decent strikeout numbers and he is due for some regression in the ERA department. His 5.19 ERA underlies a 3.07 FIP/2.75 xFIP. That's a pretty good pitcher. He faces a Detroit offense that is pretty strong against lefties, but will be without Miguel Cabrera. I think he'll do fine today.
He faces Matt Boyd who looked good in his first start, but is probably going to end up being a 4.5 FIP guy this year. The Mariners offense has crushed lefties this year and I'm not loving his chances. I think I'll lay the runs here.
Bet Mariners -1.5 at: [text-blocks id="87″ slug="bet-mlb"]
San Francisco Giants vs. Pittsburgh Pirates Betting Tips:
Jeff Samardzija has been hit hard in two of his past three starts and hasn't looked quite like himself this season. His walks have been out of control and he's sporting an FIP near six. The Pirates have been a slightly above average offense against righties on the year.
Chad Kuhl goes for the Pirates and while I'd probably rank him as a middle of the pack starter, I like him in this matchup. Why? The Giants have just a .683 OPS against righties on the year which is 25th in all of baseball. The Pirates playing at home and I like them to grab the win here.
Bet Pirates -133 at: [text-blocks id="87″ slug="bet-mlb"]
Atlanta Braves vs. Miami Marlins Betting Tips:
Jarlin Garcia was rocked in his last time out against the Cubs for seven runs. Despite that, his ERA is still just 2.68 and his FIP is 4.72. That leaves some room for regression still. Throw in that the Braves hitters are the best against lefties thus far this year and I have to like them today.
Michael Soroka isn't my favorite pitcher, but he has a 4.50 ERA/3.76 FIP/3.27 xFIP on the year. Despite last night, I still don't like this Marlins offense and think he's due for some positive regression. Let's go Braves.
Bet Braves -135 at: [text-blocks id="87″ slug="bet-mlb"]
[text-blocks id="110″ slug="middle-ad"]
Note: I'm currently testing a live odds plugin for the page. I've posted it below here so if you have any feedback just let me know. In the future it will be found at BetMLB.org/mlb-live-odds/
[sbs_odds sport="mlb" show="4″]
Follow @SBTSportBetting