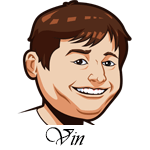 Follow @SBTSportBetting


[Get Exclusive Tips on our Patreon, Ad-Free
]
3-0 last night! 13-1 Friday to Sunday! Get all our tips on Patreon.
W Angels/Guardians Under 8 Runs
W Pirates/Orioles Under 8 Runs
W Mariners -0.5 First 5 Innings
VOID Rangers Moneyline – Rangers won big, but Rucinski didn't start.
A great weekend on Patreon. Let's keep it going with five free tips today.
All MLB tips are based on the starting pitchers listed. Tips should be considered void if any pitching changes are made unless otherwise noted. Occasionally the "follower" will be listed as we are betting on who will pitch the bulk of the innings.
We are now posting some of our betting tips exclusively on
Patreon
, as well as posting exclusive betting tips there. Here is what you get by supporting us on Patreon:
Exclusive betting tips. Not just the tips omitted from these posts, but many exclusive tips as well.
Ad-free experience.
Priority e-mails; receive the e-mails as soon as the tips are posted rather than hours later.

Atlanta Braves at Texas Rangers Betting Tips:
ATL – Charlie Morton
TEX – Cody Bradford
Bradford is making his MLB debut here and he couldn't have asked for a worse match-up. He projects as a slightly below-average pitcher and faces a Braves offense that has a 152 wRC+ against lefties on the year. This team has hit extremely well and done a ton of damage on the road this season.
The Rangers offense is tough, but Morton should be better. He has a 3.32 ERA/4.06 FIP with a high groundball rate and low homerun rate. A nice quality to have.
Over the past month, the Braves bullpen has an 84 FIP- compared to a 102 FIP- for the Rangers. This game checks all the boxes.
Braves Moneyline (-136)
Bet Horse Racing - +£21,565.98 profit on £25/pt staking. Click for more details.
(Advertisement but we have tested it out and have been quite impressed with it)
Arizona Diamondbacks at Oakland Athletics Betting Tips:
ARI – Merrill Kelly
OAK – Drew Rucinski
This is the top play of the day at +2.36. I was tempted to do the -1.5 here, but I am sticking with my firm +2.5 rule to lay runs. Instead, I'll go with the Diamondbacks -0.5 for the first five innings.
It's pretty easy just to go against the Athletics every night, but this is just a great match-up. Rucinski was meant to start yesterday and it was a slam dunk pick. It's still a slam dunk against Arizona.
Drew Rucinski has been pounded in his first three starts with an 8.16 ERA/7.27 FIP, allowing five runs in each start. Diamondbacks have hit righties very well with a 112 wRC+.
Kelly has been very good this year with a 3.18 ERA/3.87 FIP. The Athletics offense is better than you'd think, but they are below average against righties and have been bad at home with an 87 wRC+.
Diamondbacks -0.5 First 5 Innings (-130)

Kanas City Royals at San Diego Padres Betting Tips:
KCR – Brad Keller
SDP – Michael Wacha
Wacha has been solid to start the season with a 4.82 ERA/4.13 FIP, he's at home here, and he has a nice match-up. The Royals have just an 81 wRC+ against righties this season.
Keller has been a bit lucky and not all that good early with a 4.31 ERA/5.39 FIP. He has a huge walk rate which gets him into trouble. He's had at least four walks in his last five starts and the Padres are one of the most patient teams in the league. That should cause trouble today. The Padres offense has disappointed early, but they have been very good at home with a 114 wRC+ in San Diego.
All that said, I am going with a double bet here as over 9 runs seems really hard to picture as both offenses have been below average this season.
Padres -0.5 First 5 Innings (-130)
Royals/Padres Under 9 Runs (-110)
Bet Horse Racing - +£21,565.98 profit on £25/pt staking. Click for more details.
(Advertisement but we have tested it out and have been quite impressed with it)
Philadelphia Phillies at San Francisco Giants Betting Tips:
PHI – Bailey Falter
SFG – Alex Wood
This is a straight platoon bet. This game is at a pitcher-friendly park and both of these teams can't hit lefties.
The Phillies have an 87 wRC+ against lefties this season. That number will improve with Harper back, but this is a tough match-up. Wood has a 2.45 ERA/3.57 FIP thus far this season.
Falter has been a bit unlucky early with a 5.75 ERA/4.69 FIP. The Giants should make him look good here though as they have an 83 wRC+ against righties with low walks, high strikeouts, and not a lot of power.
Note: There may be an opener here with Falter coming second so you should still bet this even if he is not listed as the starter.
Phillies/Giants Under 5 Runs First 5 Innings (-115)
Bet Horse Racing - +£21,565.98 profit on £25/pt staking. Click for more details.
(Advertisement but we have tested it out and have been quite impressed with it)
Follow @SBTSportBetting