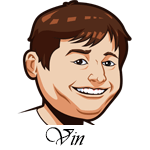 Follow @SBTSportBetting


[Get Exclusive Tips on our Patreon, Ad-Free
]
The Golden State Warriors set an NBA record with 73 wins in the regular season to earn themselves home court advantage throughout the playoffs. After one game against the Thunder, that home court advantage is gone and they'll have to win at least one on the road in order to win this series. There are many factors that went into the loss for the Warriors/win for the Thunder and each one of them seems to negate the other. Steven Adams played big in this game, but Andrew Bogut went out with an injury in the second half. Russell Westbrook went off in the third quarter, but Kevin Durant went cold in the third. The Warriors scored just 14 points in the fourth quarter, but had chances to take the lead with a minute left. Steph Curry was 1/6 in the final quarter. The list goes on and on. Some of these things simply won't happen again which means that this series is going to be a very good one.
The Cavs and Raptors series starts tonight and, objectively, it is not going to be nearly exciting. The Raptors have made it farther than they ever have in franchise history and that is an accomplishment of it's own. On the other hand, Cleveland is sweeping everybody and seem locked in to the NBA Finals. Bookmakers aren't giving Toronto a lot of respect as -10.5 point dogs in game one and a +900 dogs for the series win. It makes sense since the Cavs are a much better team, have played six less games and don't have an injury on the level of Jonas Valuncunias, but it still seems crazy to see numbers like that in the Conference Finals.
MLB Betting Tips:
A big part of the White Sox early season success has been their 10-5 record in home games. They get a pretty good chance to add to that tonight as they face the Houston Astros. They go against Dallas Keuchel who has had a really rough start to the season with a 5.58 ERA. He's not looked great thus far and the bullpen hasn't done much to bail him out. I'm going to have to go against him against good teams until he proves me wrong and tonight Chicago is the much better team. White Sox -107.
It is really hard for me to go against the Red Sox offense right now when they are playing any non-elite pitcher. Almost 1/4th of the way through the season and they are averaging six runs per game. That is a huge number. With a solid pitcher in Rick Porcello on the mound for them and a mediocre Yordano Ventura on the other mound, I am all over Boston -124.
Max Scherzer is making his first start since his 20-strikeout performance against the Tigers where he threw 119 pitches. That isn't an insane number, but it is high for today's MLB. That plus the fact that the game got so much attention, I think he comes back down to earth a bit in this one. He goes against Noah Syndergaard who doesn't have a 20K game, but does have a nice little 2.52 ERA on the season. For today at least, I think Sydnergaard is the better pitcher and the Mets -127 will grab this one.
Notable Upcoming Bets:
NBA Betting Tips:
Anyone who watched the Raptors and Heat series knows that the Raptors are not playing very pretty basketball right now. They've played a slow style and relied heavily on Lowry and DeRozan to go 1-on-5 to get things done. Simply put, that won't work against the Cleveland Cavaliers. They are moving the ball on another level right now and they are getting contributions from everyone on the court. The Raptors just can't keep up or defend that. Beyond that, they are better rested and healthier team. The Raptors need a miracle and I think they've used them all up. Cavs -10.5
Follow @SBTSportBetting