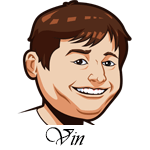 A 2-0-1 record last night that was oh so very close to a 3-0 night.
We took the over on the Cowboys and Saints in Madden Sims and got the win there. This one looked like it might not get there for us as the Saints offense struggled, but a 14-14 fourth quarter pushed the total over for us.
Yesterday we also took our first foray into CNBS, Nicaraguan Beisbol, and it worked out well. We took the 0-6 Carazo to get their first win of the season and that's exactly what they did, winning 7-4. Our other pick was laying -2.0 runs for Boer against Jinotega. This is where the "oh so close" comes into play as Boer had a 4-1 lead heading into the bottom of the ninth, but allowed on in the bottom to force the push. I'll have some more tips from that league today.
In sports news that didn't surprise me in the slightest, the SEC has announced they will be playing football in the fall whether the rest of the NCAA plans to join them or not. The goal is for all 130 FBS programs to be on board, but it feels increasingly unlikely that they will all be able to agree on that. The SEC will play no matter what happens so that is something that will be happening this fall.
Notable Upcoming Bets:
CNBS – Nicaragua Beisbol Betting Tips:
Boer at Jinotega: We are going right back to the well on this one as the numbers haven't changed. Yesterday, we got a push here and today we are looking for a whole lot more. As a reminder from yesterday, Jinotega leads the league in runs allowed with 52. That's an average of seven runs per game. While Boer is the best team in the league, first in run prevention and fourth in run scoring. Let's lay the runs again.
Bet Boer -2.0 (-125) for 2 units
Rivas at Segovia: From the stats I am looking at, neither one of these offenses impress me very much. Both teams have gone under in four of their past five games and I could see them doing it again here. Last night's game only saw seven total runs and I could see tonight's total falling around that number. I am not as high on this pick as the other one, unders are always risky, and will only be going one unit here.
CS:GO ESL One: Road to Rion Betting Tips:
We are rolling with Cloud9 over 100 Thieves today. Cloud9 got a win for us earlier this week and they have been rolling as of late, winning four of their last five. This game looks like it might be favorable for Cloud9 from a map perspective. They would be smart to target Train in this one where they have a 69% win rate. This is a big game for Cloud 9 because a victory here would guarantee them a playoff spot. They know what is at stake here and I think this is a great underdog play for this afternoon.