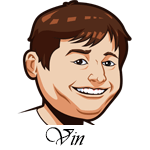 Follow @SBTSportBetting
Welcome to June! We are posting our record for the month of May as much as I'd simply rather forget the month. Below you will see a copy of the spreadsheet that I use to track my record for the year.
I had a 41-44 record for the month of May. Which is pretty good considering the absolutely awful start of the month. From the 1st through 6th, my tips went 3-13. The tips were +7 in the win column after that so hopefully that was just a hiccup and we'll keep that strong run going into June. I don't keep the data on final scores, but there had to be at least ten games this month that were decided by a run or less against us. The bad month left us below profitability year to date.
Overs were particulary cruel to us as we went just 3-8 on those as well as 0-3 on first five overs. 4-4 was our record on unders. Our runline record was 14-18 ruined by the Mariners 0-5 runline record in our tips. Our best tips were moneyline plays which went 20-8. The Braves were 4-1 and Astros 3-0 for us in those tips.
Complete records are below.
| | | | | | | | |
| --- | --- | --- | --- | --- | --- | --- | --- |
| DATE | TEAM | TYPE | ODDS | +/- | WIN | LOSS | PUSH |
| 05/01/18 | Milwaukee | Moneyline | -123 | $81.30 | 1 | | |
| 05/01/18 | Cardinals -1.5 | Runline | -110 | -$100.00 | | 1 | |
| 05/01/18 | Orioles/Angels 8.5 | Over | -110 | -$100.00 | | 1 | |
| 05/02/18 | Red SoxRoyals 10.5 | Under | -110 | $90.91 | 1 | | |
| 05/02/18 | Cubs/Cardinals 10.5 | Under | -110 | -$100.00 | | 1 | |
| 05/02/18 | Mariners -1.5 | Runline | -110 | -$100.00 | | 1 | |
| 05/02/18 | Diamondbacks -1.5 | Runline | 180 | -$100.00 | | 1 | |
| 05/03/18 | Pirates/Nationals 9.5 | Over | -110 | -$100.00 | | 1 | |
| 05/03/18 | Indians -1.5 | Runline | -100 | -$100.00 | | 1 | |
| 05/04/18 | Yankees -1.5 | Runline | -110 | -$100.00 | | 1 | |
| 05/04/18 | Reds | Moneyline | -121 | $82.64 | 1 | | |
| 05/04/18 | Brewers | Moneyline | -119 | -$100.00 | | 1 | |
| 05/05/18 | Indians | Runline | 105 | -$100.00 | | 1 | |
| 05/05/18 | Tigers/Royals 9 | Over | -110 | -$100.00 | | 1 | |
| 05/06/18 | Twins/Sox 9 | Over | -110 | -$100.00 | | 1 | |
| 05/06/18 | Brewers | Moneyline | -126 | -$100.00 | | 1 | |
| 05/07/18 | Astros | Moneyline | -133 | $75.19 | 1 | | |
| 05/08/18 | Phillies -0.5 | Runline | -140 | $71.43 | 1 | | |
| 05/08/18 | Mariners | Moneyline | -117 | $85.47 | 1 | | |
| 05/08/18 | Indians -0.5 | Runline | -130 | -$100.00 | | 1 | |
| 05/09/18 | Cubs -1.5 | Runline | -150 | $66.67 | 1 | | |
| 05/09/18 | Astros -0.5 | F5 Runline | -130 | -$100.00 | | 1 | |
| 05/09/18 | Braves | Moneyline | -110 | $90.91 | 1 | | |
| 05/10/18 | Red Sox/Yankees 9.5 | Over | -110 | -$100.00 | | 1 | |
| 05/10/18 | Milwaukee | Moneyline | 132 | $132.00 | 1 | | |
| 05/10/18 | Braves | Moneyline | -108 | $92.59 | 1 | | |
| 05/11/18 | Astros -1.5 | Runline | -125 | -$100.00 | | 1 | |
| 05/11/18 | Braves | Moneyline | -132 | -$100.00 | | 1 | |
| 05/11/18 | Dodgers -1.5 | Runline | -110 | -$100.00 | | 1 | |
| 05/12/18 | Mariners -1.5 | Runline | -110 | -$100.00 | | 1 | |
| 05/12/18 | Pirates | Moneyline | -133 | $75.19 | 1 | | |
| 05/12/18 | Braves | Moneyline | -135 | $75.19 | 1 | | |
| 05/13/18 | Indians -1.5 | Runline | -130 | $76.92 | 1 | | |
| 05/13/18 | Mariners -1.5 | Runline | -145 | -$100.00 | | 1 | |
| 05/13/18 | Braves | Moneyline | -138 | $72.46 | 1 | | |
| 05/13/18 | Rockies/Brewers 11.5 | Under | -110 | $90.91 | 1 | | |
| 05/14/18 | Indians -1.5 | Runline | -135 | -$100.00 | | 1 | |
| 05/14/18 | Oakland | Moneyline | 137 | $137.00 | 1 | | |
| 05/14/18 | Arizona | Moneyline | -136 | -$100.00 | | 1 | |
| 05/15/18 | Indians | Moneyline | -131 | -$100.00 | | 1 | |
| 05/16/18 | Pirates -1.5 | Runline | 100 | -$100.00 | | 1 | |
| 05/16/18 | Rangers/Mariners 4.5 | Over F5 | -110 | -$100.00 | | 1 | |
| 05/16/18 | Braves/Cubs Over 5.5 | Over F5 | -110 | -$100.00 | | 1 | |
| 05/17/18 | Oakland/Toronto 9.5 | Over | -110 | $90.91 | 1 | | |
| 05/17/18 | Giants | Moneyline | -135 | -$100.00 | | 1 | |
| 05/18/18 | Oakland/Toronto 9.5 | Over | -110 | -$100.00 | | 1 | |
| 05/18/18 | Mariners/Tigers 7.5 | Over | -110 | $90.91 | 1 | | |
| 05/19/18 | Oakland | Moneyline | -126 | $79.37 | 1 | | |
| 05/19/18 | Braves -1.5 | Runline | 105 | $105.00 | 1 | | |
| 05/19/18 | Brewers/Twins 8 | Under | -110 | -$100.00 | | 1 | |
| 05/20/18 | Braves -1.5 | Runline | 100 | -$100.00 | | 1 | |
| 05/20/18 | Dodgers/Nationals 7.5 | Under | -110 | -$100.00 | | 1 | |
| 05/20/18 | Angels -1.5 | Runline | 110 | $110.00 | 1 | | |
| 05/20/18 | Astros | Moneyline | -136 | $73.53 | 1 | | |
| 05/21/18 | Twins -1.5 | Runline | 100 | $100.00 | 1 | | |
| 05/21/18 | Yankees -1.5 | Runline | -125 | $80.00 | 1 | | |
| 05/22/18 | Pirates | Moneyline | -135 | -$100.00 | | 1 | |
| 05/22/18 | Astros -1.5 | Runline | -130 | $76.92 | 1 | | |
| 05/22/18 | Athletics/Mariners 8.5 | Over | -110 | -$100.00 | | 1 | |
| 05/23/18 | Brewers | Moneyline | -111 | $90.09 | 1 | | |
| 05/23/18 | Angels | Moneyline | -116 | $86.21 | 1 | | |
| 05/23/18 | Pirates | Moneyline | -117 | $85.47 | 1 | | |
| 05/24/18 | White Sox | Moneyline | 117 | -$100.00 | | 1 | |
| 05/24/18 | Brewers/Mets 8.5 | Under | -110 | $90.91 | 1 | | |
| 05/25/18 | Cubs -1.5 | Runline | -121 | $82.64 | 1 | | |
| 05/25/18 | Yankees -1.5 | Runline | -105 | -$100.00 | | 1 | |
| 05/25/18 | Braves/Red Sox Over 6 | Over F5 | -110 | -$100.00 | | 1 | |
| 05/26/18 | Phillies -1.5 | Runline | -110 | -$100.00 | | 1 | |
| 05/26/18 | Cardinals/Pirates 8.5 | Under | -110 | $90.91 | 1 | | |
| 05/26/18 | Nationals -1.5 | Runline | 105 | $105.00 | 1 | | |
| 05/26/18 | Reds/Rockies 11.5 | Over | -110 | -$100.00 | | 1 | |
| 05/27/18 | Tigers/White Sox 9 | Over | -110 | -$100.00 | | 1 | |
| 05/27/18 | Indians | Moneyline | -127 | $78.74 | 1 | | |
| 05/27/18 | Astros/Indians 8 | Under | -110 | -$100.00 | | 1 | |
| 05/28/18 | Astros | Moneyline | -131 | $76.34 | 1 | | |
| 05/28/18 | Nationals | Moneyline | -131 | $76.34 | 1 | | |
| 05/28/18 | Seattle -1.5 | Runline | 125 | -$100.00 | | 1 | |
| 05/29/18 | Yankees/Astros 9 | Over | -110 | $90.91 | 1 | | |
| 05/29/18 | Red Sox -1.5 | Runline | -110 | $90.91 | 1 | | |
| 05/29/18 | Mariners -1.5 | Runline | 120 | -$100.00 | | 1 | |
| 05/30/18 | Red Sox -1.5 | Runline | -103 | $97.09 | 1 | | |
| 05/30/18 | Indians -1.5 | Runline | -128 | $78.13 | 1 | | |
| 05/30/18 | Nationals -1.5 | Runline | -130 | $76.92 | 1 | | |
| 05/30/18 | Rockies -0.5 | F5 Runline | -110 | -$100.00 | | 1 | |
| 05/31/18 | Indians | Moneyline | -127 | $78.74 | 1 | | |
| | | | | | | | |
| | | MONTH | Winning% | +/- UNITS | WIN | LOSS | PUSH |
| | | | 48.24% | -8.21 | 41 | 44 | 0 |
| | | | | | | | |
| | | YTD | 51.74% | -5.23 | 89 | 83 | 1 |
Follow @SBTSportBetting