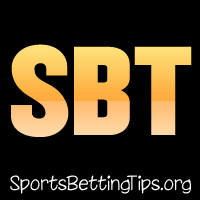 Follow @SBTSportBetting
Last night, the Raptors climbed back into their series against the Milwaukee Bucks with a double overtime win. This was a weird game as the Raptors only outscored the Bucks in the first quarter and the 2nd overtime. This was a pretty sloppy game from the Bucks. Eric Bledsoe, Khris Middleton and Giannis Antetokounmpo combined for 22.9% shooting from the field and the Raptors still needed double overtime to beat this team, something they weren't able to do until Giannis fouled out. The trio also had 16 turnovers.
So this was a big win for the Raptors, but also a bad game from the Bucks. The defense was definitely there for Toronto and they needed to win this game when the big three of Milwaukee doesn't show up, but the double OT is not encouraging going forward.
Tonight, we see the Warriors and Portland play game four of their series. The question isn't whether the Blazers are going to win this series now, but can they win even one game?
Graeme: The Warriors are usually good with letting a team win a game so it's not complete humiliation. Plus they probably want to win on home court.
However, you have to think they also want to wrap this one up as quick as possible and get rested and prepped for the Bucks or Raptors. Either team will be tough to beat especially on their home courts as proven last night.
They'll most likely rest Andre Iguodala who got good news from the MRI, but is still questionable. Why risk him?
Meanwhile, Damian Lillard has his own rib injury.
Just have to expect the Blazers roll over here. Good for them if they don't. But I am on https://www.Bovada.lvWarriors -3.5. They've just shown that they are the better and more motivated team, and Kevin Durant being missing just seems to spur them on and is forcing the others to step up. Also how great if they sweep without Durant then he comes back and loses the finals?
Vin: I had the Warriors in five before this series and I am sticking with that here. The Blazers have not played that poorly in this series as they've taken leads into the half in each of the last two games, but then the Warriors just lock down and shoot the lights out in the second half. That is a credit to the Warriors, but it is not something that you can just do every night.
Throw in the injury to Andre Iguodala and this feels like a gentlemen's sweep to me. The Blazers have played great at home during these playoffs and they just need that one good shooting night to get a game here. They need just one night where they can stop Stephen Curry. I feel better about the first thing happening than the second, but an off night for Steph would definitely give the Blazers a win here.
The Warriors depth isn't great and no Andre or Kevin Durant is going to take it's toll at some point. I think this is that game and the https://www.Bovada.lvBlazers +3.
Follow @SBTSportBetting