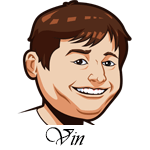 Follow @SBTSportBetting
The Bucks and Raptors continue their series tonight and thus far it has been all about the home teams. The Bucks looked dominating in the first two games while the Raptors got some great performances in the two games in Toronto. The series heads back to Milwaukee and the Bucks have to come out strong here. I think that they will. The Bucks did not lose three games in a row once during the regular season.
So many times in the playoffs we let ourselves get fooled by the most recent game. After game two, it was all about how the Bucks might be the best dynasty and the Raptors are the same old team. After the last two games it became about how the Raptors are going to win this series and re-sign Kawhi Leonard this offseason. That's not really how it works. It takes four wins to move on and whatever happened yesterday doesn't matter. It's all about today's game.
Notable Upcoming Bets:
NBA Betting Tips:
Toronto Raptors at Milwaukee Bucks: History is on the Bucks side here. Since 2005, teams who lost game four by a large margin are 116-81-5 when favored in game five per the Action Network. That really does look good for them and this home crowd should be wild tonight. We've seen throughout the playoffs that role players play much better at home (as witnessed by the Raps in game four, especially) and that should be exactly what happens here.
Additionally, I really like this game to feature some high scoring. The last three games in this series have been over the posted total and that should continue here. If the Bucks play well, which I think they will, that involves them draining a lot of three pointers. That means a high scoring total for them and I think they can easily surpass this total tonight.
MLB Betting Tips:
Tampa Rays at Cleveland Indians: The Indians send Adam Plutko who I don't love against this Rays offense. The Rays have a 112 wRC+ on the season against right handed starters and Plutko is not a pitcher that scares me in any way. The Rays will be doing a bullpen game for this one and that looks good for them. They've had one of the better bullpens in the game this year and the Indians offense is really weak this year outside of the two stars.
Chicago White Sox at Houston Astros: Corbin Martin starts for the Astros in his third start of his career. He's had some solid strikeout numbers thus far and faces a below average offense here. The Astros won't ask too much of him and will go to that amazing bullpen early. While the Astros send Lucas Giolito who is really having a breakout season thus far. I like both of the pitchers in this game to be solid and I think the total on this one is set way too high. The Astros offense is scary, especially against lefties, but I think Giolito can put up a solid 5-6 innings to keep this one under.
Bet White Sox/Astros Under 9 Run
Follow @SBTSportBetting