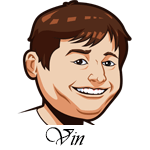 Follow @SBTSportBetting
A 2-0 record this morning.
Our big win was two units on Hertha and they go the shutout win, 2-0. This team is currently ninth in the standings, but they have been playing great of late and are really a team to watch going forward. Our other tips was the over of 2.5 goals on Eintracht Frankfurt/Wolfsburg and we got there. Frankfurt continued their strong play with a 2-0 win.
WWE did some stupid angle with Jeff Hardy last night that erased the Jeff Hardy/Daniel Bryan match last night so that bet ended up being scratched. I really hate when they do things like this, not only because it's stupid and not entertaining, but because if the sportsbooks go to the lengths to post these lines and then they do some b.s. like this then they might just throw their hands up in the air and stop posting lines for these shows. It's why I think AEW is perfect for betting as it seems to be an unofficial rule that each advertised match will happen and each will have a finish. WWE doesn't respect the idea of a match card and think 'Card subject to change' means they can do whatever they want and not delivered on what was advertised. I want to bet on pro wrestling, I was to post tips on it. Stop messing around with this crap that nobody gives a crap about. Rant over.
Tonight, all eyes are on UFC. I also have tips for some of tomorrow's Bundesliga action.
Notable Upcoming Bets:
UFC on ESPN 9 Betting Tips:
Katlyn Chookagian vs Antonina Shevchenko: This line really makes no sense. Katlyn just faced Antonina's sister, who trains with her and has basically the same style, and got destroyed. So now when she faces her sister she is going to be a little over a coin flip? No, no way. I think Antonina can get her on the ground here where Katlyn struggles as she is more of a kickboxer than anything. Putting two units here.
Bet Antonina Shevchenko -131 for 2 units
Spike Carlyle vs Billy Quarantillo: Spike, aka the Alpha Ginger, is back in action against Billy Quarantillo. I like Billy here as he was originally scheduled for a fight in April that was canceled, but kept his fight camp going through quarantine. He trains under Matt Arroyo who runs a tight ship and I think he'll have his man ready here.
Bundesliga Betting Tips:
This match-up takes place tomorrow at 12:00 Eastern time.
Paderborn vs. Dortmund: This is just about the most lopsided match-up that you will see in this league. Dortmund is one of the better defensive teams in the league as they've only allowed 34 goals on the year while Paderborn is one of the bottom teams in scoring as they've only scored 31 all year long. When you compare that to the 74 that Dormund has scored this season and you start to feel pretty comfortable laying the goals here. 1.5 goals is a lot in this league, but this feels like it should be at least a +2 win for Dortmund.
Follow @SBTSportBetting