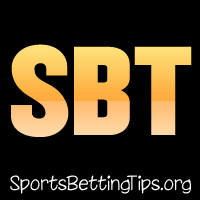 Follow @SBTSportBetting


[Get Exclusive Tips on our Patreon, Ad-Free
]
Last night we saw what might have been Kyrie Irving's last game in Boston. After that game, I'm not sure the Celtics fans will miss him. He shot 7-for-22, 1-for-7 from three for 23 points as the Celtics were beaten up by the Bucks. Milwaukee took the lead in the second half and never really looked back. The difference between Kyrie and Giannis Antetokounmpo was really jarring as Giannis just put the team on his back for 39 points. They now have a 3-1 lead and can close it out tomorrow.
We also saw the Rockets even the series with the Warriors. The Rockets continued their game plan of mucking up the game and slowing up play, which has worked well for them. James Harden had 38 points, but a missed free throw late left an opening with the score 111-108. The team got good looks from Kevin Durant and Stephen Curry who both missed from three, and that was all she wrote. Curry had a nice game, but a team 8-for-33 from three is not their game and they need more than 11 points from the bench. Game five is Wednesday and it should be very interesting to see how these teams react.
Toronto Raptors vs. Philadelphia 76ers Betting Tips:
Graeme: The Raptors finally stepped up to assist Kawhi Leonard in the last game, and the defence helped out too. Despite that, it was still a very close game with the Raptors winning 101-96. Leonard still did the mountain of the work with 39 points.
It's a real concern for the Raptors and you have to wonder if Kawhi is going to keep going in beast mode or if he is going to be running on fumes.
Joel Embiid seemed to have issues too with a bad sleep, needing an IV etc. Basically while the Raps won, it could have gone the other way easily enough.
Point spread is enough for me to take Philly. https://www.Bovada.lv76ers +6 as you gotta think even if losing they push to the end.
Vince: I absolutely do not trust the Toronto Raptors. Every game has been Kawhi Leonard and one co-star, and that is just not enough. Kyle Lowry has shriveled in the moment and Fred Van Vleet is yet to make a shot. The Raptors have relied on their depth throughout the season and that depth is just not showing up.
This is an absolutely huge game from the Sixers. A healthy Embiid would go a long way as Graeme said, but I think the key might be Ben Simmons embracing a Draymond Green-esque role. He's the worst shooter on the team and afraid of the shot, but he can change this game with his playmaking and defense.
I simply don't trust the Raps and this number is somewhat ridiculous. Give me the https://www.Bovada.lvSixers +6
Portland Trail Blazers vs. Denver Nuggets Betting Tips:
Graeme: The Nuggets are 4.5 point favourites here and are riding the momentum after a massive 116-112 win over the Blazers to tie up the series.
That was after the Blazers took a 2-1 lead.
It's hard to separate these two teams as they are just getting very close. Portland beat the Nuggets 97-90 here in Game 2 whtn the Nuggets had a bad game.
I feel it's time for another big performance from Damian Lillard.
https://www.Bovada.lvBlazers +4.5
Vince: The Nuggets really impressed me in game four as I felt this game was the Blazers to win. Jamal Murray is growing up right before our eyes and had an absolutely huge game last time out. Nikola Jokic had a triple-double in that game and the Blazers options for stopping him didn't really work out for them.
Now the Nuggets get to head home to the elevation and play in front of a raucous crowd. The Blazers really need to find an answer for Jokic and I think they may have exhausted their options. I have to go with the home team here.
https://www.Bovada.lvNuggets -4.5
Follow @SBTSportBetting