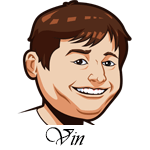 A huge sports weekend is on tap with UFC 249 tonight and WWE Money in the Bank tomorrow. Two live events of that nature in one weekend was just a normal week pre-coronavirus, but in this world it is cause for celebration.
The UFC event has already had its share of controversy  after Ronaldo "Jacare" Souza tested positive for coronavirus and his fight was pulled from the card. He was then quarantined along with his team away from the rest of the UFC staff and roster, and will be monitored by the UFC medical team. The positive test took place after the weigh-in where Souza participated wearing a mask and gloves. Something that Dana White was apparently too cool to do, as you can see above.
In baseball news, the MLB has cut the draft from 40 rounds to 5 for 2020. After that, teams will be allowed to sign an unlimited number of undrafted players for $20,000. This is a cost-cutting measure to save teams money, but I could definitely see some teams like the Dodgers, Yankees, and Red Sox take advantage of this and go crazy signing players. There are often some really great players still available in these later rounds, but those same players might not want to sign for $20k when they might have gotten 10x that last year. An interesting situation that I will be monitoring going forward.
Notable Upcoming Bets:
CNBS – Nicaraugan Beisbol Betting Tips:
Rivas at Chinandega Tigres: Rivas has dropped five straight games heading into this one and only two of those games are what I would call close. The hitting has not been there for them as they have the third worst offense in the league and the pitching hasn't exactly been lighting the world on fire either. They face Chinandega who have some of the best pitching in the league with the second least runs allowed. Rivas is a slight favorite here, but I just don't see it.
Segovia at Carazo: Segovia are the hottest team in the league with four straight wins while Carazo is the worst team in the league at 1-9. They are dead last in runs scored and bottom-two in runs allowed. Just a bad team all around. Segovia is a decent size favorite here, but the runline is definitely in our favor. Only two of Carazo's nine losses have been by one run so laying the -1.5 against a much better team feels like a steal.
CS:GO ESL One: Road to Rio Betting Tips:
FURIA vs. Team Liquid FURIA has been playing really well as of late so I was about to tip them to win at least one map here. However, the FURIA +1.5 line is -275. What? That's ridiculously high. So then I looked two columns over and saw that the over 2.5 on this one is -110. How does that make sense? It's an overwhelming favorite that one team will win a map, but the over is not priced accordingly. I don't get it, but I am going to bet it anyway.