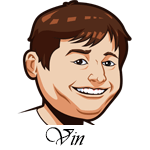 Follow @SBTSportBetting
Game 5 of the Stanley Cup Finals plays tonight as the series heads back to Pittsburgh all tied up at 2-2. You have to think that the Penguins are happy to get out of Nashville where they entered with a 2-0 lead and left with a 2-2 tie. They were outscored 9-2 in the two games in Nashville and the Predators looked like the far better team.
If you throw in game one in which the Predators allowed only 11 shots, played a far better game and could've hypothetically won save for a questionable replay overturned goal; the Predators have outplayed the Penguins in three of four games in this series. They could be the best eight seed ever and after a disastrous game two, it looks like Pekka Rinne is back to being the stopper and Conn Smythe favorite that we thought he was heading into the series. We have to start seriously thinking about a world in which the Nashville Predators are Stanley Cup champions.
Of course, the Penguins are the Penguins and they tend to get things done in these situations. Sidney Crosby has been doing it himself at times and they have a lot of talent. Phil Kessel and Evgeni Malkin are big time scorers and could swing this series at any time. With the series tied 2-2, the real series starts now. Things are going up a level from here on out.
Notable Upcoming Bets:
NHL Betting Tips:
The level of play should tighten up now and I think we've probably seen the last of the 4-1 and 5-1 games. Pekka Rinne seems to have figured out whatever was bothering him in the first two games of the series and Matt Murray has played much better at home in the series. I think on a goalie versus goalie basis that Rinne has a huge advantage here and that on a defense versus defense basis I'd say the same about Nashville, but the Penguins are a rare case. They have the most offensive talent of just about any team and that can tend to even the score.
That said, something clicked with the Predators in those last two games and I think that some of that should carry over to this game. Rinne has been outstanding and I think there is a real value in the Predators +135.
I don't think it will be easy though. Goals should be hard to come by and I wouldn't be surprised if we see overtime in this game. As I said before, I think the 4-1 games are over and things will be much closer from here on out. Under 5.5 goals seems very likely as shots should be hard to come by.
MLB Betting Tips:
The Seattle Mariners are the hottest team in baseball right now. They have won 9 out of their past ten games and tonight go for the sweep against the Minnesota Twins. They currently sit at 30-30 and have the chance to go over .500 for the first time this season. Their offense has been the story and tonight they face Kyle Gibson who currently sports a 7.23 ERA. That is very high. The Mariners are very good. You know how this ends. Seattle -122.
Follow @SBTSportBetting