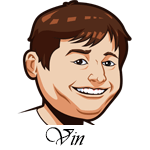 Follow @SBTSportBetting


[Get Exclusive Tips on our Patreon, Ad-Free
]
We covered the Eastern Conference Playoff series in our last time out and now it's time for the Western Conference. While the East is filled with a lot of potential drama and some really good series, the West is quite the opposite. There is a possibility that all of these series go five games or less. There isn't an underdog that feels like it has any great value and this all seems like a big distraction until we get to the next round. That being said, playoff basketball is playoff basketball and there is always the chance of something amazing when the NBA playoffs start.
Right now we're going to go through every series with our predictions and any bets that really stick out as having value. Just a quick note before we begin: the series picks of a winner should be bet on as a full unit. The picks where we pick the exact games should be made as 1/4 unit bets as the level of difficulty in projecting them is much higher. That being said, let's get to the tips.
Golden State Warriors vs Houston Rockets Betting Tips:
Last year, this was the Western Conference Finals match-up and it felt like there might be a chance that the Rockets could steal it. This year, the Warriors won 73 games and the Rockets got in on the last day of the season. What a difference a year makes, eh?
This should be a sweep. The Warriors can sometimes fall into the trap of trying to put on a show and being too flashy which leads to a lot of turnovers. That could have been an adjustment problem for them in the first round against a team like the Jazz who play great defense, but luckily for them the Rockets don't play defense! The Rockets are just an absolute mess and I'll be really disappointed if the Warriors don't sweep them easily.
Warriors in 4
Pick: Warriors win 4-0 -103 at Sports Interaction
San Antonio Spurs vs Memphis Grizzlies Betting Tips:
Another sweep. The Grizzlies are just ravaged by injuries and this will be the easiest sweep of the first round.
Spurs in 4
Pick: Spurs win 4-0 -104 at Sports Interaction
Notable Upcoming Bets:
Oklahoma City Thunder vs Dallas Mavericks Betting Tips:
Big props should go out to Rick Carlisle and the Dallas Mavericks for getting this team to the playoffs yet again. Deron Williams, Raymond Felton, JJ Barea, David Lee, Zaza Pachulia and company really are the NBA's island of misfit toys and somehow they made it work. It's hard not to root for them, but they have absolutely no chance against this Thunder team. I really wanted to take them to steal a game, but with all the injuries I just don't see how they will be able to keep up with Kevin Durant and Russell Westbrook. They just have no one who can stop them.
Thunder in 4
Pick: Thunder win 4-0 +399 at https://www.Bovada.lv
Portland Trailblazers vs Los Angeles Clippers Betting Tips:
The only hope for a great first round series in the West.
There is just so much to like about this series. Lillard vs. CP3. Age vs. youth. Doc Rivers vs. Terry Stotts. This series is going to be intense. These two teams don't like each other and the home crowds will be amazing for this one. I am pumped for this series.
Both of these teams can put up big numbers and score at will. The difference between them comes down to defense and rebounding. The defense of the Clippers is miles ahead of the Blazers and Portland will have to fight hard for every point. They have one of the best pure scorers in the league in Dame Lillard and the match-up between him and Chris Paul will be one of the best of the first round.
Despite their defense and the presence of Deandre Jordan and Blake Griffin, the Clippers are one of the worst rebounding teams in the league while the Blazers ranked 9th in the league in total rebound percentage. DeAndre Jordan should outrebound their whole team, but the Blazers will go to Hack-A-Jordan early and often in an attempt to make him a non-factor in this series and allow Ed Davis to clean up the boards. It'll be on Blake Griffin to bang down low more than he likes in this series.
At the end of the day, the Clippers just have more weapons than the Blazers do and they did a great job of containing Lillard and McCollum in the regular season. If they are able to do that here, this will be a win for them. I'd love to pick the Blazers to steal this one, but I think the best we can hope for is for them to steal a couple of home games.
Clippers in 6
Pick: Clippers win 4-2 +433 at Sports Interaction
Follow @SBTSportBetting