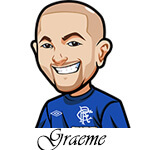 Follow @SBTSportBetting


[Get Exclusive Tips on our Patreon, Ad-Free
]
Whew – mini crisis today thankfully averted.
I'm at a resort for the week in the Caribbean. Arrived yesterday. Brought my Surface down with me to do all my work etc as well as betting tips and so on.
Randomly last night it starts typing the letter "r" constantly and otherwise not functioning. Thought maybe it was due to the humidity or something but nah just appears to be busto.
Thankfully the concierge service pulled through – they were able to hook me up with a big HP USB keyboard that does the job ha. Will have to remember that in future to bring a backup just in case.
Anyway yeah it's been a heck of a day dealing with that so no F1 action tomorrow. Will just focus on NFL today.
Last week I went 3-1 with the 1u plays, 0-1 with the 1/2u play. I won't recap as I want to get my ass back to the pool. Although I am not complaining – nice to be chilling in the room with the A/C going having a couple of frosty beers!
Plays:
-0.5u on LaPorta Over 52.5
– Tyreek Hill over 90.5 receiving
– Anthony Richardson Over 215.5 passing
– 3 more on Patreon
Jaguars vs Bills:
Nothing.
Ravens at Steelers:
Nothing here.
Panthers at Lions:
No odds on Goff passing yards at the moment. Could be a good game for the deep balls. With ASB out, you'd hope LaPorta gets a fair bit of action. Carolina does seem a team you throw to a TE. I'm a bit way so going with 0.5u on Over 52.5. Just something feels a bit iffy about it.
Texans at Falcons:
Don't think it'd make sense for Houston to run too much here. I kinda like the Stroud over but a bit concerned especially with Nico going up mostly against Okudah and Terrell. I feel like Woods is the one they will end up throwing the ball to. Makes the over 41.5 tempting but I don't have full faith in him, plus there's just too much guesswork there. No play.
Saints at Patriots:
Nothing here.
Giants at Dolphins:
For Hill it seems to be more about the coverage, and so this looks to be a great matchup for him. Tyreek Hill Over 90.5 receiving yards.
Titans at Colts:
This should be a good game for Richardson. I know he's still kind of figuring it out but this is a great defense for him. Whether Taylor plays or not. Pittman should have a fun game here. Could see Pierce as a sneaky pick here too but going with Richardson Over 215.5 passing yards.
Bengals at Cardinals:
Think Burrow could actually have a good game here. Over 254.5 is very tempting. But it's so hard to have confidence in him. I can see him leaning on Chase a lot but the over 80.5 line is pretty hefty. No bet but I could see both going over won't surprise me.
Eagles at Rams:
Patreon Exclusive
Chiefs at Vikings:
Nothing.
Jets at Broncos:
Patreon Exclusive
Cowboys at 49ers:
Follow @SBTSportBetting