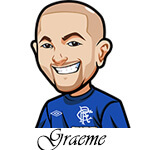 Follow @SBTSportBetting


[Get Exclusive Tips on our Patreon, Ad-Free
]
We started this week off with a nice easy win in the NFL. Vin took the over in this one knowing the Patriots would put up 30+ points and the Giants would contribute too.
It was a 35-14 victory for the Pats despite the weather.
With an over/under of just 42 points, we easily went 1-0 in the beginning of NFL Week 6.
Lot of early games as per usual including a morning game from London. I'll cover the early games here then get to the rest tomorrow. Let's get to it:
NFL Week 6 Betting Tips:
Panthers vs Bucs: This is the London game and for me there are just too many questions. Yes being in London changes everything. The Bucs defense is being weird where they are getting good at stopping the run but the passing game is worse. There is a big question over McCaffrey. First whether he is actually injured or notas he said it was just cramps last week but you never know. Plus the Bucs Run D is good. That's a big question mark that is enough for me to stay off the game.
Bengals vs Ravens: Dalton came to life late last week but the Bengals are 10.5 point underdogs here. Ravens are missing a few key defenders in Jefferson, Young and Smith. However Dalton is without his starting offensive tackles. My opinion is the Ravens feast on them unfortunately and we see some rushing TDs here too. Ravens -10.5
Texans vs Chiefs: Chiefs are 4 point favourites here. Deshaun Watson is looking good and they go up against a Chiefs team with quite a few injuries. Problem is the Chiefs at home are a beast. Mahomes is struggling with his left tackle and guard out. I think this will be a low scoring game. Under 55 which is a bit tough to bet considering the QBs but I think it is the right play. Mahomes won't be as mobile.
Saints vs Jaguars: Jags are 3 point favourites. Bridgewater is playing quite well however and the Jags D isn't what it used to be. Minshew has been solid. However the Saints defense I think will cause the Jags problems. Kamara with the slight injury is a concern however. Jags might be without Ramsay. I am taking Saints +3 as I don't have Jags have the creativity to beat them.
Eagles vs Vikings: I have Kirk Cousins in fantasy so I was happy to see his performance last week. They are 3.5 point favourites here however he concerns me to a degree as Cousins is going to be under pressure. IF he is able to throw the ball fast he'll be good due to the Eagles injuries. Wentz is missing DeSean it looks like. I'm not a big fan of it but I think I gotta take Vikings to cover the spread. The pass rush will mess up Cousins a lot but I think they can still get the points and he has some great offense obviously.
Seahawks vs Browns: Despite the poor performance on Monday, the Browns are just 1 point favourites here. Not like 50??? Wilson has been killing it. Look I get the reasons for the Browns and on paper they could cause issues here however that performance Monday, and their inability to use OBJ, I've gotta take Seahawks -1. After that MNF performance we have to.
Redskins vs Dolphins: No.
Follow @SBTSportBetting