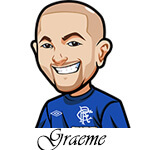 Follow @SBTSportBetting


[Get Exclusive Tips on our Patreon, Ad-Free
]
Welcome to this weeks NFL Tips. It's been a very hectic week for me. Apologies for the lateness. I'll cover the early games here then get to the late games probably while watching the early games. Actually after going through these I realize I have absolutely nothing for the late games! So here is everything.
Giants vs Ravens:
Giants are 5.5 point underdogs at home. They just had that solid win over the Packers. Ravens beat the Bengals. I feel like this is a bad matchup for the Giants, but with their coaching atm and what they are doing I really don't feel like betting against them. Going to stay away from this one although I do think it will be a good game for Ravens fans.
Saints vs Bengals:
Cincinnati are 3 point favourites on the road. Burrow has not been good. Dalton is in here I expect. With all the injuries to the Saints WRs, you'd think the Bengals would be the easy play here. I feel like this week is set up for Chase to have a great game in particular. Ugh. I'll begrudingly back 0.5u on Bengals -3. Not sure how much of a factor Higgins will be if he ends up playing.
Colts vs Jaguars:
The Indianapolis Colts are 1.5 point favourites at home as they host the Jags. Nothing here after last time they played. That could affect this game in a big way but I'm not sure how it will play out. Happy to skip.
Dolphins vs Vikings:
The Miami Dolphins are 3 point favourites at home to the Vikings. Last week I took the Dolphins and Teddy went out immediately which really sucked. It's looking like Thompson starts. He had the rough week last week but you look at him in preseason and pretty decent there so he's not someone I would write off on last weeks performance. Dolphins do have the weapons offensively and I'm not going to write them off with Thompson in. Plus Teddy looked good two weeks ago and I would be concerned if he plays. Going to go with 0.5u on Vikings -3 primarily due to the Dolphins QB situation being such a mess. Mostert struggling with injury too is helpful.
Browns vs Patrots:
The Browns are 2.5 point favourites at home to the New England Patriots. The Browns are on a two game losing streak. The Pats stunned me last week as they didn't just beat the Lions, but shut them out. Think I'm good with 0.5u on under 43. Should be a slow paced game, Pats D should stuff the Browns offense. Browns D on paper could be a concern.
Packers vs Jets:
Jets are over a touchdown underdogs as they visit Wisconsin with the line set at 7.5. I'm very wary of the Packers at the moment, and the Jets are one of those teams I don't feel I have a good grip on at the moment. No bet.
Falcons vs 49ers:
Falcons are 4.5 point dogs against Jimmy G and crew. I'm so hesitant with the 49ers right now as we suffered with that game against the Broncos. They've managed to put up two solid wins since though. The 49ers defense can win them games though as long as their opposing D isn't too dangerous. That's the case here. 1u on 49ers -4.5.
Steelers vs Buccaneers:
The Steelers are 10 point dogs at home to Tampa. Bucs should win but I don't know if they cover that point spread. But after the way the Steelers offense played against the Bills can you really back them? I can't. No bet.
Seahawks vs Cardinals:
The Arizona Cardinals are 2.5 point favourites on the road in Seattle. Cards have been okay this season. Geno Smith comes in cooking and I like him to have a big game here Not sure who wins. Has the prospect of a shootout but 50.5 is a high line and I have my concerns about the Cards hitting that. Nothing for this one but a lean on the Seahawks.
Rams vs Panthers:
The joint biggest point spread of the day, with the Rams 10 point favourites as they host Carolina. Too rich for my blood. Rams are a bit of a mess but so are the Panthers. I'm good with passing.
Chiefs vs Bills:
The game of the day for sure. Chiefs are 2.5 point underdogs. Buffalo obviously an incredible defense. Chiefs I feel we have seen some real jekkyl & hyde performances from their offense this year. When I think to all the games this season, I feel the Bills are just overall teh better team. They should be perfect after that mess up at the end of the Dolphins game. Buuuut similar to that game, we could see a come down after last weeks blowout. If the points where the other way round I'd take the Bills here. I feel it's a real coinflippy game depending a lot on what Chiefs show up and I don't want to take the wrong side of the coinflip with the Bills. No bet.
Eagles vs Cowboys:
Another big game with the Eagles 6.5 point favourites. Eagles are a team I've been high on all season, but this Cowboys team man – they seem to be tricky. And the Eagles have made me sweat a few times this year. I'm going to play it safe and stay away.
Follow @SBTSportBetting