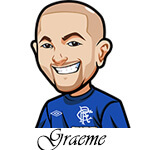 I honestly never thought I'd be able to do this again for a long time – but here I am ready to cover the NHL!
The return of the NHL season felt like a pipe dream however it's finally here and it all starts off on Saturday, August 1st.
It's all day hockey beginning at noon EST and it's going to be amazing. Of course it has to co-incide with the Umbrella Academy Season 2 drop. My kids won't be too happy at me ignoring the adventures of Vanya & co to watch Panthers vs Islanders but it is what it is.
I said to them on Fathers Day "the one gift I want is an uninterrupted couple of days to watch NHL if it ever returns" and I'm cashing that in this weekend bay-bay.
Hopefully be able to bet every game. There's a lot of questions and mystique about this return and it will be interesting. We'll see how it all goes.
Let's get right into it:
Rangers vs Hurricanes Game 1 Bet: There's one fact and that is that the Rangers have defeated the Hurricanes in all four games this season. Rangers have been given a second chance. They performed well, made the decision to stick with Kreider then he got injured. However they hung in there and now this is karma making it up to them for having a go of it. They've also got Panarin and Zibanejad who if they are on form will cause lots of problems. I'm good to take 1u on the Rangers winning Game 1 at +110 odds.
Blackhawks vs Oilers Game 1 Bet: The Blackhawks got the better of the Oilers 2-1 this season and looked good in their pre-season game. However this is the Edmonton Oilers who have some of the best players in the league. Plus they're at their home. Oilers need no more motivation than that and should be able to take this one. 1u on the Oilers at +107 odds.
Panthers vs Islanders Game 1 Bet: Panthers are a team who I felt disappointed me quite a bit this season. Never showed the fight they often do. Plus honestly with the unique circumstances I'm fine putting my faith in Barry Trotz here. I think he will be beter prepared than anyone. 1u on Islanders at -110 odds
Canadiens vs Penguins Game 1 Bet: If you listen to most people then you might as well just change the Penguins opponents name from "Canadiens" to "Bye". I get it. However the Pens while on paper are an awesome team – that doesn't translate as well to the ice at times. Don't forget this team lost 6 freaking games in a row in February of this year. Honestly I like Penguins to take this series however I do see value in the Habs. I think they win at least one game and if they win this one we won't get better value. 1u on Montreal at +147 odds.
Jets vs Flames Game 1 Bet: This is an interesting series however I feel more pumped about the Jets. They have the better goaltender and I feel they have players performing better this year. Gaudreau is great but has had an off-season and not sure he will recapture his mojo. 1u on Jets to win at +100 odds
Best Odds For NHL: