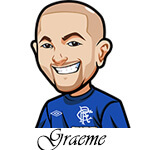 Follow @SBTSportBetting


[Get Exclusive Tips on our Patreon, Ad-Free
]
Unfortunately the golf isn't looking too solid this week. Rory McIlroy is our only horse left in the race after disappointing perfomances by Kisner and Willett. Kisner started strong too and Willett did good but not great. Oh well it happens.
We had a nice 2-1 night last night in the NHL with the only loss being the Devils vs Capitals game. What can we say but did we ever underrestimate Wedgewood. A great beginning to his career shutting out the Penguins and then shutting out the Capitals in regulation time. Very, very impressive stuff.
He did look a bit flustered in overtime though – maybe that's how you beat him by playing at a very fast pace. Will be interesting to see how things go from here.
With a ton of NHL games tonight we'll be covering all of those:
Sabres vs Jets: Neither team has anything to play for which makes it very tricky. Sabres are coming off a nice 3-2 comeback win over the Hurricanes and also just beat Ottawa at home. Jets have put a couple of wins together over the Kings and Canucks in impressive fashion. Kane will be up for this one of course. The price of 1.80 is attractive enough that I'll take the Sabres in this one.
Red Wings vs Penguins: The Penguins are coming off that ugly loss to the Devils and they visit Detroit in what is a fascinating game. Either team could do as good as claiming home ice advantage in the playoffs, but could also not even make the playoffs! Says a lot about how interesting the next little while is going to be. Penguins have won twice already this year against the Red Wings, and I like them to add another win to the list. Penguins to win.
Avalanche vs Wild: Avs lost to Philly the other night, and the Wild have strung a few nice wins together. I was hoping the Wilds odds would be a bit better on this one. Wild have been a bit complacent in games like the Oilers game but they have looked solid and I'll take Wild to win.
Sharks vs Stars: The Sharks have had two bad losses at home against the Oilers and Blues. You'd have to think they bounce back tonight against the Dallas Stars. The Stars gave a thumping to the Blackhawks but then lost to the Coyotes. The Sharks have a lot more to play for than the Stars who are without Seguin and I think that's enough to take Sharks win.
Leafs vs Bruins: I'd recommend you run far, far away from any Leafs games. In saying that they always give the Bruins a good battle and Bruins are struggling so Leafs Win at 2.35 is a nice value play.
Notable Upcoming Bets:
Hurricanes vs Islanders: The Islanders still look lost without Halak. Their offense stepped up big last night but I can't see it happening tonight. The way that game ended is going to be brutal for the Islanders and their heads are going to be down. Canes can still get into the playoffs and coming off a big win over the Jackets, the Hurricanes are going to be confident. Would be nice if they could stop letting the opposition get so many shots though. Canes to win.
Canadiens vs Rangers: The Habs have an incredible record against the Rangers. They're also so hard to judge at the moment and I would stay away from this game. However similar to the Leafs – the 2.35 is nice value so if you're going for one I'd take Habs.
Lightning vs Panthers: Tampa are on a 3 game win streak, their offense is clicking and they're hosting the Panthers. It's an interesting one as Tampa are a team throughout the season where everything looks good and they blow it. Panthers have a nice record against Tampa with 3 out of 4 wins this season although they really struggle when they play at the Amalie Arena. I'd take Panthers win although I'm not a big fan of the odds.
Senators vs Ducks: Ducks aren't playing too well at the moment. Senators either but I do like the value on Senators to win at 2.30 odds.
Capitals vs Blues: WIth Elliott out, I have to go with the Capitals here. That's a big advantage to the Habs. I expect part of the reason Elliott is out is because he is in form and the last thing the Blues want is for him to concede a bunch against the Capitals. Washington have been making it tough for themselves, but I like a nice convincing Capitals win in Regulation.
Predators vs Jackets: This seems like a nice game for the Predators. They struggled against Vancouver but they're so solid at the moment and great at home. Blue Jackets are losing against everyone home or away. Their loss to the Hurricanes means they are out of the playoffs and their heads are going to be down. Preds are motivated to stay far above the Blackhawks and I'll take Predators to win in regulation.
Kings vs Oilers: The Kings have won 13 of the last 15 against the Oilers. They've lost their last 3 on the road and this is the perfect game to turn that around as they're at home. Oilers of course can always mix it up but I feel confident in Kings in Regulation.
Coyotes vs Flyers: Coyotes have two wins on the trot now, and we're seeing a good goalie battle with Smith and Domingue both looking good. Flyers offense is kicking it and Philly playing excellent. This is a 50/50 game and I think Coyotes get the win here.
Flames vs Blackhawks: Flames won the last meeting between the two. They're also solid at home. The Hawks you just can't count on them at the moment. A value bet on the Flames is the play here.
Follow @SBTSportBetting