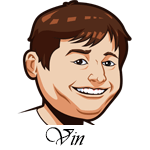 The sports world is really cooking right now with tons of games on every night. Remember nights like these when the summer hits and all we have is baseball. Don't get me wrong, I love baseball, but I love the diversity of this time of year. College basketball, NBA, college football, NFL and NHL are all in action. It's the most wonderful time of the year.
With so much going on, it's easy to get lost in the sports landscape. There are a lot of games to choose from every night and tonight we've done our best to select the games that are the best to watch and to bet on. Of course, a 59-0 game is greatest game to watch if you are on the winning side so we'll be erring on that side of the coin. Let's get into the tips.
NBA Betting Tips:
The Cavaliers and Raptors face off tonight in a rematch of the Eastern Conference Finals. That would seem like a major match-up, but the talent gap between these two teams is pretty big. The Cavs are just a great team and the Raptors aren't really able to touch them. They are just playing with a higher level of confidence and are a far healthier team this season and they should cover tonight. Cavs -5.5
One of the early season surprises was the Chicago Bulls who somehow got the Wade/Butler/Rondo trio to work and came out hot. They've calmed down a bit since and now they get to face off against one of the best teams in the West (on the road) in the Portland Trailblazers. The Blazers should run this old team off the floor and the Bulls won't be able to keep up with Portland's scoring. This should be a great game… for Blazers fans. Portland -3.
[colored_box color="blue"]Bet NBA all season long: https://www.Bovada.lv[/colored_box]
College Football Betting Tips:
This match-up tonight with the Ohio and Central Michigan seems pretty close on paper, but Ohio has the more impressive wins and the better record. The big difference here is the running game. Ohio has gotten big yards all season with their strong running game while Central Michigan's run defense is bad, allowing an average of 161 yards per game. This should be a good game, but Ohio's running game should lead them to victory tonight. Ohio PK
[colored_box color="blue"]Bet college football at: https://www.Bovada.lv[/colored_box]
College Basketball Betting Tips:
The game of the night could be the Duke and Kansas match-up. Duke is the top ranked team in the country and Kansas is currently the 7th ranked team after their loss in the first game. Despite that loss, Kansas should be one of the best teams in college basketball this year and this will be a good game to show why that is.
The Blue Devils will potentially be without Jayson Tatum, Harry Giles and Marques Bolden, all of whom are potential lottery picks and a big part of this Duke team. Kansas has no such injury worries and they should be able to bounce back strong against Duke. Teams always get up to play Duke and with the Blue Devils being shorthanded this feels like the night that Jayhawks +2.5 get back on track.
[colored_box color="blue"]Bet college hoops all season long: https://www.Bovada.lv[/colored_box]