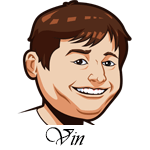 Follow @SBTSportBetting
Basketball is in full swing and we have a big slate of games tonight covering both the NBA and college hoops. While the NBA season feels like a long task to get to an obvious result (Cavs-Warriors III), there are still a lot of good games on and interesting young teams that could be unseating those two in a year or two. College is always exciting this time of year as teams try to jockey for position. This is a good time to be following basketball is what I'm trying to say.
There are some really fun games on tonight highlighted by the Thunder versus the Lakers. The Thunder have been exactly as advertised early as it has been the Russell Westbrook show and we are seeing numbers from him that we never thought imaginable. He's currently averaging 31.6 points per game, 10.4 assists per and 9.6 rebounds per. That is insane and we haven't seen someone average numbers approaching a triple double like that since Oscar Robertson. It is always fun to watch Russell, but especially against a team like the Lakers. LA is a young team, but they play a really fun style and fast pace. This game should be fun from a scoring perspective.
NBA Betting Tips:
The over/under on that game is a whopping 220 which is one of the higher totals you will see in an NBA game. They could definitely reach that number and I'm not quite willing to bet against that. The thing to watch in this game is D'Angelo Russell who is currently listed as questionable and is not expected to play. That should open things up for Russell Westbrook even more than expected and the Thunder -2.5 should roll.
We're not sure we understand why the Bulls are so good this year, but they continue to play well and tonight's match-up against the Nuggets favors them. Denver has been allowing more points than they've scored this season and they should allow the Bulls to put up their numbers. The Bulls defense will be key here and they should hold Denver down for the win. Bulls -2.5
Notable Upcoming Bets:
College Basketball Betting Tips:
Marquette takes on IUPUI tonight and they are a huge favorite. These two teams played last November as well and the line was almost identical, but IUPUI played it tough and Marquette eeked out a 75-71 win. Marquette hasn't shown themselves to be that much better than last year's squad and IUPUI shoots the 3-ball well. I could easily see a repeat performance of last year's result here. Take the points, IUPUI +13.5.
While their football team isn't having the greatest season this year, it's hard not to like Notre Dame's basketball team. They've showed a great defense early and tonight they get a favorable match-up at home against the Northwestern Wildcats. Notre Dame's point differential early is much better than Northwestern's and the home court is so big in college basketball. The Fighting Irish are a good play today, Notre Dame -2.
Follow @SBTSportBetting