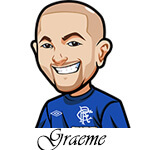 Follow @SBTSportBetting


[Get Exclusive Tips on our Patreon, Ad-Free
]
(Image Credit: CBC)
Unfortunately no golf tips this week as I got delayed and also forgot when the Australian PGA Championship took place ha.
I sat down to do the tips today then thought huh I better check the starting time just in case. And glad I did as I would have wasted my time studying everything as it started like 30 minutes later oops;
So we'll just cover tonights NBA and NHL action instead.
Also hope everyone enjoyed my 2018 Grey Cup winning tip on the Stampeders. Nice to see them take it again. Been a tough couple of years for them.
NHL Picks November 28th, 2018:
Leafs/Sharks Over 6 Goals: These two teams are amongst the teams who are favourites for the Stanley Cup. You often see teams like this trying to one up each other in this spot. We saw them do a high scoring game last night out and I like that to continue this time. Especially with Matthews back. Two concerns – Sharks offense has been sleeping last two games, and Matthews being back may upset things. Regardless I think the goals should come in here.
Red Wings To Win: Have to take the Red Wings here due to their price. This is a close game and one I'd say maybe 50/50 but with the Wings at home that's good stuff yet they are underdogs? I think Blues are only favourites due to their name more than anything else – take out the names of these teams and just look at the stats and they really shouldn't be favoured. Detroit are worth it.
Ducks To Win: Ducks are one of those weird teams that will randomly show up. We saw that last night. They're someone who I generally will place a small bet on if they are above 2.30 odds and I don't strongly believe in their opponents. Due to mixed results by the Panthers it wouldn't surprise me if Ducks take this one.
Flames in Regulation: Home/road split is the story here. Flames are excellent at home while the Stars are brutal on the road.
Penguins to Win: Watching the Pens play, I believe they are getting confident again. I like them to get the win here and as underdogs I'm good for it for sure.
NBA Picks November 28th, 2018
2 underdog plays tonight:
Knicks +12.5: If Philly blow them out so be it however Philly haven't blown out a team in awhile and even though they are winning, they've relied on Butler bailing them out twice in the last week. Knicks had a strong finish yesterday and I like them to keep that momentum going today and try and take the 76ers down.
Suns +12: Disappointing one from the Suns last night but they played well. Clippers do have a lot going for them but I thought the Suns performed well last night and had a solid performance. I mean they were tied 104-104 with less than a minute left and I hope that doesn't get them down.
Follow @SBTSportBetting