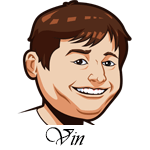 Follow @SBTSportBetting
With election day in the United States many of the world's eyes will be on that since some people haven't gotten enough of this over the past two years. When there are games to bet on, that's where our attention will be. There are some great NBA games on the slate tonight and a full NHL lineup.
That said, you can bet on the election as well and there is money to be made here. The Clinton and Trump battle has been going on for months and it's crazy that there are still people out there with questions.
Most polling sites see Hillary Clinton winning this thing tonight and the current odds have it here -450. That isn't really a great bet because there isn't a lot to gain from a bet of that size and a lot to lose.
A solid bet is Donald Trump's vote percentage. FiveThirtyEight's polls plus forecast has him pegged at 45% right now and that feels about right. 44% to 46.99% +140 is a solid bet. If you're looking for more of a homerun then you should take Trump wins +325 or one of the lower percentages. 38% to 40.99% at +1000 is intriguing as there is a larger contingent of Republicans who aren't for Trump than the media wants to admit.
We'll know tonight when it finally ends, thankfully.
You can bet the 2016 election at: Bovada
Notable Upcoming Bets:
NBA Betting Tips:
One of the most fun teams to watch this year is the Minnesota Timberwolves. While they are not the surefire playoff team that many people predicted before the year, they are still a really fun team with a really fun cast. Karl Anthony-Towns is amazing, Andrew Wiggins can play and Tom Thibodeau is creating something special in Minneapolis. Tonight should be a great showcase for what they can do as they play the Nets in Brooklyn. The Nets have been frisky at times this year, but with the Wolves coming off two straight losses they should be coming out hot and the Nets just don't have the firepower to fight that. Wolves -4
While New Orleans is still looking for their first win, they have played some entertaining games thus far this season. They play the Kings tonight who are desperately trying to be a competitive team this year. This game feels like one where they are going to fill it up. The Kings will think they can win and the Pelicans will have some fight in them. Over 203 is a nice play here.
The Lakers have been doing well since losing Kobe Bryant and hiring Luke Walton. The offense has really opened up and they are averaging a huge 110 points per game thus far this year. They haven't played much defense, but that's okay when you're a young team putting up those kinds of numbers. They play the Mavs tonight who will be without Dirk Nowitzki so they'll likely being playing small ball with Seth Curry, Harrison Barnes and Wes Matthews. This could be a really high scoring game and over 205 feels way too low.
Follow @SBTSportBetting