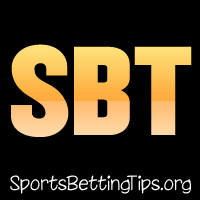 Follow @SBTSportBetting
First of all my apologies for the lateness of the tips today. I suck. Got caught up watching the UEFA Europa League action and completely lost track of time.
I usually love it when there are only a few games to analyze but sometimes it's a problem as I'm always "Ah I can do it later" etc then time gets away from me.
It was a 1-2 night yesterday. The night started strong as we had the Detroit Pistons -1.5 and they got the win. It was a tight game but the Pistons showed the heart I expected and kept fighting and took it 103-96 with a big final quarter.
Unfortunately the Pacers lost to the 76ers. That was one where the 76ers didn't WIN the game – the Pacers LOST it. Simple as that. Up until the last portion of the game they didn't look like they cared. Couldn't move the ball around. There was no rhythm to their offense. That was very frustrating and a rare game where I turned it off out of disgust.
We had Lakers -5 and unfortunately they won by 4. Nothing you can do there. Liked their defence in the 2nd half of the game but the first was bad and Rose was killer.
Today is a very tough night I find. I know I'm a bit late so just quick write-ups to benefit our European friends who may still be up late.
Suns vs Celtics Betting Tips:
Celtics have got hammered the last couple of games and I like their defense to tighten the hell up tonight. They're one of the best defenses in the league and I think they step up against the Suns.
Suns offense generally struggles and this just seems like one of those 110-90 wins for the Celtics or something like that.
Suns are a team who admit they are a mess at the moment – don't have the chemistry going or anything like that and I like the Celtics to take full advantage of that.
I'd love to take the Celtics with the spread but 9.5 is just awy too much in my opinion. Too many variables there. We'll go with Under 214.5 Points.
Unfortunately that's the only game I am tipping tonight. The rest of the games I just feel like I am forcing myself and can honestly see both sides of it in terms of who to bet.
Sorry again about the lateness
Follow @SBTSportBetting