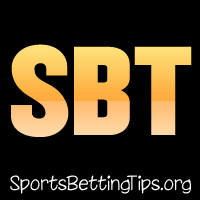 Follow @SBTSportBetting
A 1-1-1 record last night.
The Wolves and Cavs came down to the final seconds with our +8 bet. The Cavs were down six with the ball, but it was a turnover then two free throws by Jimmy Butler, and then the Cavs missed the final shot to make it a push.
The Bucks and Pacers did get us the over win though as they scored 219 against a 218 total. This one was close, but the offenses were really clicking early and helped carry us to the finish.
Our loss was the Thunder and I was just wrong here. Russell Westbrook didn't play and the Clippers won. The Thunder had a chance, but a 37-15 fourth quarter put them away.
Two picks tonight. One game I like, but won't be tipping is the Raptors over the Wizards. This will be Raps third game in four nights and second half of road back to back. While I don't think that is as big of a deal as it will be later in the season, it's still a rest situation I like to avoid.
Minnesota Timberwolves vs. Dallas Mavericks Betting Tips:
I've been down on the Wolves early, but I have to admit that Jimmy Butler has really been on one to start the season. It feels like he's trying to prove to the world that he is worth a max contract and he's doing a darn fine job of it. The team is still a mess, but playing well together has a way of bonding teams and they should bond well tonight.
That's because the Mavericks just aren't very good right now. Without Harrison Barnes, Devin Harris and Dirk Nowitzki, they are short handed. Wesley Matthews did not look very good in the first game and the defense which was always going to be a problem here is even worse without Barnes. I like Luka Doncic, but he's not going to outduel Jimmy Butler here.
https://www.Bovada.lvBet Wolves -2.5
Los Angeles Lakers vs. Houston Rockets Betting Tips:
This should be a good one. LeBron James makes his Los Angeles debut against James Harden and the Houston Rockets. There were definitely some growing pains in the first game against the Blazers, but if you take away the uncharacteristically bad shooting night from some of the Lakers and the uncharacteristically amazing shooting night from Nik Stauskas, I think the Lakers played pretty well for their first time together. There were some rotation things that will need tweaking, but this team is going to be a player. Their offense is for real and will make up for a lot of the defensive shortcomings.
Speaking of defensive shortcomings, the Houston Rockets did not look good on that end at all in their first game against the Pelicans. Replacing high level veteran defenders like Trevor Ariza and Luc Mbah A Moute with Marqueese Chriss and Michael-Carter Williams will do that. This team has some growing pains of their own to go through and I think they are much more troublesome than what the Lakers are going through. Especially when they have to deal with this man:
I just see both of these offense going wild tonight. Defense won't be there for either team and two of the best offensive players on the planet will be doing battle. It should be fun to watch.
https://www.Bovada.lvBet Lakers/Rockets Over 234.5
Follow @SBTSportBetting