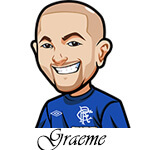 Welcome to the betting tips for October 23rd, 2019.
It's a Wednesday and usually that means a lot of golf betting tips action. Unfortunately there's only the one bet this week in that.
The PGA has the Zozo Championship going on and I am unsure how things will go on that course.
Rather than theorize with no raw data. I've decided to skip it.
Last week we were unlucky in both tournaments. Needing a top 5 finish for a cash, our 45/1 pick of Tyrell Hatton came so close but he ended up in 6th place in the CJ Cup.
Over on the European Tour, our 25/1 bet of Marcus Kinuit really should have been a winner. Alas he had multiple double bogeys and even a triple bogey and that cost him the top spots. He ended up 2 strokes out of a top 5 finish.
I also took Nasa Hatoka to win the LPGA Shanghai however she ended up in 3rd place ugh.
Just one of those weeks.
Let's get the bets going for Wednesday, October 23rd:
Golf Bets:
Like I said just the one bet and that is George Coetzee to win and Top 5. He's struggled a wee bit lately however he came into form last week and I am hoping he can carry that momentum into a tournament he always does well at. He has one of the best average finishes in the field and if you take out guys who have played 3 events or less, he has the best average finish.
He knows how to perform at this course and I've got to make him my bet here. No-one else jumped out at me unfortunately but less is more sometimes. There's been some weeks where a whole bunch pop out at me so it is refreshing not to have a big shortlist to go through.
NBA Bets:
The NBA is in full swing with a lot of games on the board tonight and I have two bets for you. Yesterday Vin opened the season going 1-0 taking the Clippers +3.5.
First I am taking Bulls -3. I like this team and I think the Chicago Bulls will surprise us all this season. Zach LaVine is looking hot and they are building the team around him. He looks like a natural leader and I think they are going to take this one. Hornets are one of those teams that I think once they get going and more time passes, they'll be able to make a dent in the NBA. However I like the Bulls to be the more motivated and hungry team here regardless of being on the road.
Speaking of hungry teams, I'm also on Pacers -7.5. They just look like one of those score hungry teams that are going to run up the score from what I saw in pre season. Yeah they are without Oladipo but that isn't really a surprise. Pistons will be without Blake Griffin and that's a sad loss to open the season.
Pacers defense will need to step up a wee biit but if they are able to do so, I see no problem in the Pacers able to cover the point spread and this should be over by the end of the 3rd.