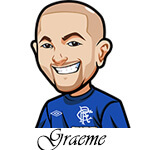 Follow @SBTSportBetting


[Get Exclusive Tips on our Patreon, Ad-Free
]
The Masters ended up being a solid tournament. The final round was a day where anyone could have won it seemed but no-one could really get rolling – all except Jon Rahm who moved up and got his an E/W cash with a -6 final day.
It was a crazy tournament with a lot of big names cut after Round 2 such as DJ.
Major props to Matsuyama though. It was very nice to see. If you've followed me you know I try not to bet him ever. Even when he pops up well on the metrics etc and has good odds – I struggle to do so because for lack of a better description – I feel like he phones it in.
When I saw him among the top guys at the end of round 1 I wasn't surprised but I expected him to coast the rest of the tournament. Big props to the guy for turning it on.
As mentioned, Rahm was our only cash last week: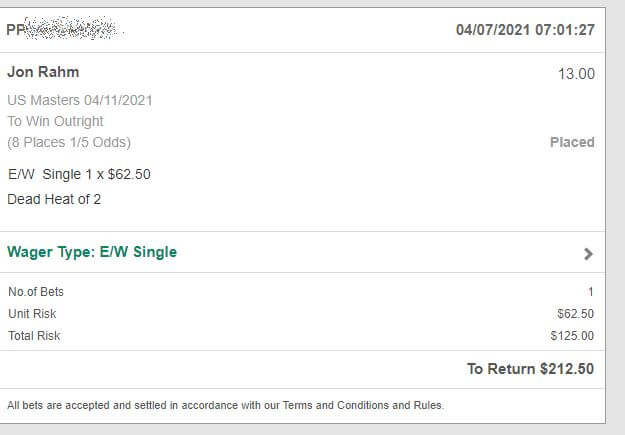 Although as you could tell from my write-up I wasn't really expectiong too much. I got excited in day 2 when DeChambeau looked like he was heating up alas that went to pot.
In one of those pleasant little mistakes – at BetOnline I accidently placed the bet on Webb to Top 10 in the first round, as opposed to entire tournament. So that was a wee bonus personally.
We've got the RBC Heritage this week. Let's get to it. I'm under big time constraints this week so that's the only tournament I will cover and all my bets will bet at Bet365.
RBC Heritage 2021 Betting Tips:
Morikawa pops out for me by the numbers but not convinced with his putting at the moment.
$125 on Dustin Johnson To Win:
Here's the deal; as soon as I saw DJ miss the cut I thought back to July 2018. He had a similar poor performance at the Open Championship after coming in strong and then he bounced right back at the Canadian Open with an absolutely dominant performance.
I'm fine betting lightning to strike twice here. He's played here before and made top 20 finish the last few times. He excels on Bermudagrass. I'd love to bet him at $250 and I was initially going to do that. However he does seem to be in a bit of a funk and this seems to be related to his Grandfather passing.
On top of that is he is here more due to the sponsor than anything else, so his head might not be in it. There are a lot of reasons not to bet DJ this week. But like I said above I was immediately reminded of July 2018 and I knew I was going to bet the man whatever the price here. That's my primary reason for this bet and anything else would just be trying to justify it.
12/1 at Bet365
---
$62.50 on Brian Harman Top 10 Finish:
Part of me hates top 10 finishes because if they win, you feel like a right dumbass. I've actually never experienced that although I came close in the 2016 Masters. TIpped Westwood Top 10 & Top 20. He looked like he was going to win for awhile before coming 2nd. He was 150/1 there. Man that one would have hurt.
Anyway Harman pops out on the metrics, playing some good golf, solid enough form here and rocks the Dye designs. Think he can contend but don't think he can win.
10/3 at Bet365
---
$62.50 on Michael Thompson E/W:
First don't ask me how my mind works in regard to this sort of thing – I only bet Harman who is about 30/1 on a Top 10 finish then I bet a 125/1ish pick on E/W.
Playing solid enough, has the course form.
125/1 at Bet365
---
$62.50 on Patrick Cantlay E/W:
Just excellent odds for him considering his ability and course form.
18/1 at Bet365
Follow @SBTSportBetting