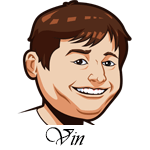 Follow @SBTSportBetting
A 1-2 record yesterday.
The Brewers had a crazy game against the Giants. It was close and Bumgarner was rolling. Then he threw a ball at Ryan Braun's head and all hell broke loose. Next thing you know, the bases were loaded and Jonathan Schoop was hitting a grand slam. Life comes at you fast. Nice win.
Beware betting the away team. It's always a risk, especially with a low moneyline, like in the Red Sox/Astros game last night. This one was 5-5 in the ninth and when the Astros failed to scored in the top, I knew we were in trouble. The game becomes a coinflip at that point and the home team is the caller. (Not sure that analogy works, but you get what I mean. I hope.)
Also, beware of betting a team when they are facing Edwin Diaz with the game on the line in the ninth. The Mariners' closer has been the most dominant pitcher in the game this season and with a one-run lead, it's pretty much over. I blame the Yankees for this loss though. They had the first three batters get on base in the fourth inning and only ended up with one run. That was their chance and they blew it. Baseball.
A weird night tonight with some HUGE favorites. I'd love to take the Astros, but at -305 and -1.5 (-205), I'm not doing that. Same with the Mets. The system also likes some dogs today. Rays over Indians with Corey Kluber on the mound is one and I am just having a hard time rapping my head around that one. Kluber just shut out the Rays two starts ago and I'll ignore that. I won't ignore this game though.
[text-blocks id="137″ slug="email"]
Milwaukee Brewers vs. Chicago Cubs Betting Tips:
I took a hit last week as I went against Wade Miley against the Cubs. I believe that he is pitching over his head right now and I believe that will come around on him eventually, but right now I am just going to ignore that. The Cubs are a bit cold with an 89 wRC+ on offense over the past 14 days and Miley's last three starts have been actually good without much luck mixed in.
The thing that is driving me here is the Brewers. They have a 111 wRC+ over the past two weeks and are starting to hit the ball pretty well. The offense is deep and there are some dangerous bats with Christian Yelich being MVP-level hot right now. They face Jon Lester whose best days are behind him. He has a 3.53 ERA/4.63 FIP on the year, but has really struggled at home where those numbers are 4.25/5.11. The Cubs offense has also been struggling of late.
I like the Brewers here and I almost like the over, but the wind blowing in has me on the fence there.
Bet Brewers +120
Atlanta Braves vs. San Francisco Giants Betting Tips:
The Giants went from losing that series to the Brewers yesterday to flying home for a game tonight. I've made that flight, it's no fun.
Dereck Rodriguez is having a fun rookie year, but I think he's due for some regression. He has a 2.41 ERA/3.37 FIP/4.16 xFIP on the year with a minuscule and unsustainable .251 batting average on balls in play. The Braves are heating up of late with a 108 wRC+ over the past two weeks.
That's nice, but you know the drill here. The Giants are terrible. They've just lost Ryder Jones and their offense is closer to Triple-A than MLB right now. They have a 58 wRC+ over the past 14 days and face a tough lefty in Sean Newcomb. This is an easy one for me.
Bet Braves -117
Follow @SBTSportBetting