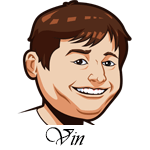 Follow @SBTSportBetting
A 1-2 record last night after a 4-0 stretch.
The Giants offense continued to pay for us as they were once again only able to manage one runs against the Braves. There were some real missed opportunities by Atlanta in this one, but they managed a run late and the bullpen shut it down for the 2-1 win.
Our two overs were complete letdowns as baseball seemed to have an offensive down night across the board. The Red Sox and Jays only managed a combined one run. I was slightly worried that Sanchez would figure things out here. It's always when you least expect it. As for the Rays/Indians over, well, I said in the write-up I liked the Rays to win. Should've went with that. Ah well, I'll take a 5-2 run anytime. Let's keep things going like that.
[text-blocks id="137″ slug="email"]
Chicago Cubs vs. Washington Nationals Betting Tips:
The Cubs schedule has been a nightmare lately, but I am thinking they show up here. For one, they are facing Joe Ross who is making his first start of the 2018 season. In fact, he's only thrown 26.1 innings all season. Considering he had a 5.01 ERA/4.99 FIP last season, I am not liking his chances here.
Secondly, the Cubs have been dominated by the tough Brewers bullpen over the past week, but the Nationals bullpen is… not that. They have a 141 xFIP- (100 is average, anything higher is bad) over the past two weeks. This should be a big time slump busting game for the Cubs as I see them doing very well at the plate.
Finally, they are not happy about this game. They wanted it scheduled on October 1st thanks to the threat of a hurricane and there is a chance it might not even be played. There is a chance the Cubs fly out of Chicago Wednesday (late, as the game didn't end til 11:30 eastern) and then fly to Washington for a game that is likely to be rained out. Then they'll fly back home to play a series starting Friday. That's messed up.
If this game is played, I like the Cubs. The best way to make up for that anger is to win the game. Mike Montgomery will start and the Nats have just a 92 wRC+ against lefties on the year.
Bet Cubs -122
Oakland Athletics vs. Baltimore Orioles Betting Tips:
I am kicking myself for not being on this series the whole time in the same way I've been on the Braves over the Giants. The Orioles are losers of six in a row and are 1-9 over their past ten. They dropped last night's game to Oakland 10-0. They are not in a good place right now.
Dylan Bundy starts for the Orioles and he has a 5.58 ERA/5.36 FIP on the year. Oakland has a 111 wRC+ on the season against righties and is red hot at the plate of late.
Brett Anderson isn't one of my favorite pitchers to back, but he has a big time groundball rate and a 4.02 ERA/4.16 FIP on the year. Throw in the Orioles being cold at the plate of late and weak against lefties all year, and this is a pretty easy game to pick. I'm willing to lay the runs here as the Athletics bullpen is one of the best in the game and their offense should do very well.
Bet Athletics -1.5 (-120)
Follow @SBTSportBetting