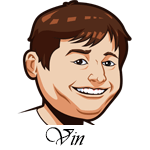 Follow @SBTSportBetting
A 2-0 record last night.
This was a nice night. The Mets did what we thought they would do to Arrieta and took an early 4-0 lead. Then we just had to wait on the Phillies to answer and they did, tying it 4-4. The over was hit and the Mets won.
The Rays and Rangers was slightly closer than I expected, but 3-0 still covers the -1.5. Tampa extended their best runline record in the league with that win.
A lot of games the system likes today so this will be a big one. Let's get right into it.
[text-blocks id="137″ slug="email"]
New York Yankees vs. Boston Red Sox Betting Tips:
The theory goes that the rivalry games between these two teams are always high scoring. It doesn't matter if it's Luis Severino versus Chris Sale, these teams are going to score big runs. I am going against that theory tonight.
Both of these offenses have not been themselves of late. The Yankees have the injury to Aaron Judge which has really changed the complexion of the team and has the Athletics on their tail. They have a 94 wRC+ over the past two weeks and face Nathan Eovaldi today. His numbers don't jump off the page (4.22 ERA/3.95 FIP), but he has a solid groundball rate and does a good job of limiting walks. The Yanks have been cold lately and I think he'll do decent here.
J.A. Happ is used to facing these AL East teams and the Red Sox have been weaker against lefties all year with a 95 wRC+. That number drops to 88 wRC+ over the past 14 days and I just think this offense is kind of cold right now. Throw in the Yankees bullpen that is one of the best in the game right now, I like the under here.
Bet Red Sox/Yankees Under 9.5 Runs
New York Mets vs. Philadelphia Phillies Betting Tips:
Up is down, left is right. I'm going under on the Yankees and over on the Mets. Let's do it.
Steven Matz goes for the Mets and he's been much worse on the road this year. He has a 4.60 ERA/4.46 FIP and while the Mets haven't hit lefties well this season, they have been a much better offense of late.
Aaron Nola is having a great year with a 2.42 ERA/2.97 FIP on the year, but he's allowed three or more runs in his last three starts. The Mets offense has been red hot of late with a 119 wRC+ over the past two weeks.
It won't take much to put this one over as it is set just a bit too low, in my opinion.
Bet Mets/Phillies Over 7 Runs
Chicago White Sox vs. Cleveland Indians Betting Tips:
This one surprised me a bit as laying the runs for the Indians is actually cheaper than laying the runs for the Rays even though the moneyline is higher. That didn't make a ton of sense to me, but whatever.
Corey Kluber is coming off a rough start against Tampa and I am expecting a big bounceback here. He has a 2.91 ERA/3.19 FIP on the year and you know what you are getting with this guy.
The Indians offense is tough with MVP candidates in Jose Ramirez and Francisco Lindor now being paired with Josh Donaldson. They face Carlos Rodon today who has a 3.10 ERA/4.71 FIP/5.21 xFIP. He has a .209 batting average on balls in play which is the only thing saving him from disaster this season. Put him against a lineup like the Indians? I am expecting disaster.
Bet Indians -1.5 (-122)
San Francisco Giants vs. San Diego Padres Betting Tips:
The Giants have been terrible of late and while I just won't blindly pick against them, Joey Lucchesi presents a great time to pick against them. He has a 3.67 ERA/4.08 FIP on the season and he's a pitcher I see big things for going forward. The Giants have just a 80 wRC+ on the year against lefties and that number is 68 wRC+ over the past fourteen days. He only has four starts where he's allowed four or more runs, three of those were against Arizona. San Fran is not Arizona.
Derek Holland goes for the Giants and he has had a good year with a 3.46 ERA/3.77 FIP. The Padres haven't killed lefties, but they have a 90 wRC+ which is better than the Giants. He may do well, but I like the Padres offense more than the Giants and the Padres bullpen more than the Giants. Easy pick.
Bet Padres -136
Follow @SBTSportBetting