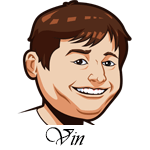 Follow @SBTSportBetting
A 2-1-1 record last night.
The Red Sox and Yankees played a tight game just as I expected and easily went under the posted total of nine as the Yanks won 3-2. While Corey Kluber put in a great performance of eight innings and 11 strikeouts to grab the 5-3 win over the White Sox as well as the cover of -1.5. Couple nice wins.
The Mets and Phillies ended up pushing the over of 7 runs which was one of the few pushes we've had all season. This isn't the NFL so pushes are far less likely here. Our lone loss was the Giants winning against the Padres.
Another four games today as the system is really liking these match-ups. Before we get into it, I wanted to throw a quick plug to my friend's new site WhereToBet.Net. Basically, if you are looking for where to bet some type of obscure sports bet, this is the place to go for the answer. eSports, Nippon baseball, golf; they can answer it all for you. A really unique site.
[text-blocks id="137″ slug="email"]
Tampa Bay Rays vs. Texas Rangers Betting Tips:
I am kicking myself for not going here last night. I just felt the runline betting line was a bit too high, but I should've known better. Today, it's a similar deal as the moneyline is only -157, but if you lay the -1.5 runs you only get even money. That doesn't make sense and I think it's the sportsbooks reacting to the Rays great runline record.
The Rays offense is killing it right now and Yohander is a pitcher that is vulnerable. He has a 3.86 ERA/4.81 FIP/5.55 xFIP on the year so a hard regression is coming. He has just a .236 BABIP which is not sustainable, his homeruns have been a bit lower than expected, his strikeouts are weak and his walks are high. This guy is throwing up a ton of red flags for me and I think the Rays pound him.
Tampa will be utilizing the opener in this one and the pitching staff has really bought into that. I try to ignore the starter's stats as much as possible for these games (I give bullpen 60% of workload in system) which just always seems to work out for the Rays. You can decide what to do here, but I am going with the moneyline. It's too cheap and the moneyline isn't beneficial enough to me. I do see them covering it though.
Bet Rays -157
New York Mets vs. Philadelphia Phillies Betting Tips:
This is the end for the Phillies. Six games out of the Wild Card and 3-7 in their last ten. It's over. Can't wait to see what you guys do in the offseason. Machado and Harper are options.
I like the Mets here. Noah Syndergaard is starting to heat up and every qualifier I look at favors the Mets. They hit righties better, they have the higher overall wRC+ and over the past two weeks their hitting and bullpen is better. These two teams are trending in opposite directions and I'm going with Thor. He's had his struggles against this team this year, but there is definitely some luck involved there and I think he right that ship today.
Bet Mets -116
Los Angeles Angels vs. Oakland Athletics Betting Tips:
Who can stop the As right now? I don't think it's the Angels.
Brett Anderson has been a nice pickup for the Athletics. While the strikeouts aren't there, he gets a ton of groundballs and limits walks. That's good. He has a 4.35 ERA/4.09 FIP on the year and I like him here as the Angels have struggled with lefties all season to the tune of an 86 wRC+. It also helps that the Athletics have one of the best bullpens in the game backing him up.
Meanwhile, the Athletics have crushed righties at a 110 wRC+ and Felix Pena's only 2-homer start of the year came against Oakland. Pena has a 3.75 ERA/3.98 FIP on the year which is impressive, but I don't know how long that will last. He's thrown the most innings he has since 2015 and I'm just not sure he's this good.
Bet Athletics -138
Colorado Rockies vs. Los Angeles Dodgers Betting Tips:
All season long I've been harping on Rockies against right handed pitchers. They are terrible, they have just a 79 wRC+ against them on the year and today they face Walker Buehler who is pretty dang good. He has a 2.88 ERA/3.14 FIP on the year and is going against this offense at home. Yes, please.
Tyler Anderson has had a nice year, but he's not Buehler. He has a 4.82 ERA/4.60 FIP on the year and the Dodgers hit lefties better than the Rockies hit righties. The Dodgers are also coming into this game on a roll with a 138 wRC+ over the past two weeks. This game has major playoff implications and I just have to go with the National League favorite. I'll be laying the runs here as I think there is a very high shutout potential for this Rockies offense.
Bet Dodgers -1.5 (-105)
Follow @SBTSportBetting