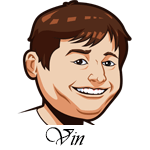 Follow @SBTSportBetting
1-2 last night.
Things have been going pretty well around here of late except for a couple of bad days. Yesterday was one of those bad days. Days like this happen, but yesterday was a tough one. A 1-2 record, but the losses were just way off.
I am just going to shake that one off though. The system has been very good of late and last night was a blip. There were data points that I didn't give enough merit to (Wei-Yin Chen at home being the best example) and that's on me. I still believe we are going to finish this month strong and I'm feeling really good about the playoffs.
Just a quick write-up today as I have an early run to get to.
Tampa Bay Rays vs. Toronto Blue Jays Betting Tips:
Tyler Glasnow has been awesome since joining the Rays and he alone has that Chris Archer trade as a big win for Tampa in my book. His strikeouts are up and his walks are down, he's really starting to put it together. I like him against this Jays offense.
Thomas Pannone? Not so much. He's barely thrown any innings this year and his minor league/limited major league numbers don't impress me much. The way the Rays have been hitting lately, I am going back to them here. I should've went back to them last night, but I was snake bit by Thursday's game which is just dumb.
Bet Rays -140
Boston Red Sox vs. Cleveland Indians Betting Tips:
Mike Clevinger is having a great season with a 3.06 ERA/3.42 FIP on the year. He's been pitching really well and he does even better in his home starts. The Red Sox are big and scary, but they have really struggled over the past two weeks.
I always seem to go against Rick Porcello. I think he's a good pitcher, but in this position it's hard to like him. The Indians are playing well of late, hitting the ball well and his offense is cold. What really worries me about the Sox here is their bullpen that has a 123 xFIP- over the past two weeks. That's not good and I think the Indians can win this one at home.
Bet Indians -121
Follow @SBTSportBetting