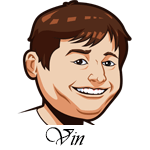 Follow @SBTSportBetting
A 1-0 record last night.
The Twins busted out for eight runs in a hurry and that was all we needed to grab the win in that one.
It all comes down to this. Game 162. Truly, there are only four games that matter when it comes to seeding and those are Dodgers vs. Giants, Nationals vs. Rockies, Brewers vs. Tigers and Cardinals vs. Cubs.
The other games? Who knows. I've seen these games where teams try, I've seen these games where Sammy Sosa leaves after the first pitch (I'm old) and I've seen it where each player gets a little curtain call by the fans and then leaves the game. This is not ideal for betting and today I am just going to focus on the four games that matter.
This is my 175th day of posting MLB betting tips. We still have the playoffs to go, but I just wanted to thank everyone who checked us out over the season. There were ups and downs in my first year back doing this, and some bugs in the system that needed to be worked out, but it was fun and I am excited for next season. Thanks again, let's win some money.
[text-blocks id="137″ slug="email"]
Los Angeles Dodgers vs. San Francisco Giants Betting Tips:
I am not sure why the Giants are bothering to start Andrew Suarez in this one. It doesn't matter to them and he's long since surpassed his career high in innings pitched. He has not looked sharp in September with a 4.38 ERA/5.51 FIP on the month. Just shut him down. Still, that works for us as the Dodgers have been on a roll of late and hit lefties for a 99 wRC+.
Rich Hill goes for the Dodgers and that gave me a bit of pause at first. He's allowed 3+ runs in five of his past six starts, but then I looked at who he was facing and it went away. The Giants have just a 80 wRC+ on the year against lefties and a 64 wRC+ over the past two weeks. This is a juicy match-up for Hill who did look good in his last time out. His strikeouts have been solid and I think he'll do well here.
This line isn't a ton of fun, but it's what we have to work with. Lay the runs, but it will cost you.
Bet Dodgers -1.5 (-150)
Washington Nationals vs. Colorado Rockies Betting Tips:
I am not feeling good about this one, but the system is screaming at me that this is the right thing to do. I even tried to juke some stats to favor Rockies (switched their last 14 wRC+ to a last 7) and still, it's all about the Nationals. I think this team can play spoiler today.
Do I feel great about backing Erick Fedde? No, but he does have a 5.24 ERA/4.35 FIP/3.81 xFIP on the year which shows he's run into some bad luck. He has a big 53% groundball rate that will play well at this stadium and his strikeout numbers are 8+ K/9. Just a lot of bad BABIP luck with a .341 average. He's solid and the Rockies against righties are not. We have a 161 game sample size now and they have just a 81 wRC+ against righties on the year. That's the second worst in baseball.
The Nationals have been the better offense all year and they come into this one pretty hot, especially after bashing this team last night. I like Tyler Anderson, but he was scratched in his last start so there are questions here. This is a decent value.
Bet Nationals +150
Detroit Tigers vs. Milwaukee Brewers Betting Tips:
Spencer Turnbull is making just his fourth appearance of his big league career and while he might have a good career, he's not ready for this. This game is going to be sold out and rocking. The Brewers offense has been locked in (Christian Yelich is two RBIs away from the Triple Crown) and they know if they win this game they have a really good shot at winning the division and being the top seed in the National League. This is it, Turnbull is not ready for that.
Bet Brewers -1.5 (-132)
St. Louis Cardinals vs. Chicago Cubs Betting Tips:
The rivalry is real and I think the Cardinals are going to show up today. They didn't make the playoffs as they were eliminated yesterday so spoiling the Cubs season could be the next best thing for them.
Chicago has absolutely limped to the finish with injury after injury and no pitching left. The most important game of the season and they are starting Mike Montgomery. All due respect, but that is not where you want to be. Montgomery has really struggled at home with a 4.99 ERA/4.95 FIP on the year and the Cardinals hit lefties really well with a 103 wRC+ on the year.
The Cubs face Jack Flaherty and I don't love it for them. They have just a 78 wRC+ over the past two weeks of the season which almost understates how bad they've been. Jack Flaherty has a 3.16 ERA/3.86 FIP on the season. This is not a good match-up for them and I think the Brewers are taking the division today.
Bet Cardinals +115
Follow @SBTSportBetting