September 6th, 2016 Betting Tips: MLB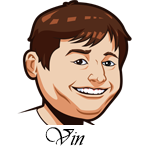 By
Posted:
September 6, 2016
There isn't a lot of time left in the baseball season and we're starting to get into elimination time. Teams like the Phillies and Twins have been eliminated for months, but for teams like the Miami Marlins, who just lost 9 out of 10 games, they need to put up now or see their slim playoff hopes vanish. One team to watch is the New York Mets who are just one game out of the second Wild Card and have the easiest schedule down the stretch. The Giants and Cardinals have had the Wild Card spots locked up for most of the season, but they both have to be nervous as the Mets are right on their tail.
In the AL, the Wild Card race is even more interesting. The Tigers and Orioles are currently tied for the second Wild Card and just one game behind the Red Sox for the first Wild Card who are one game behind the Blue Jays for the AL East lead. This is the wildest race in baseball right now. The Mariners, Yankees and Astros aren't too far behind this race, but they all need to have some things go right to make a jump over all of the others and get into this race. These are the teams that we'll be keeping an eye on going forward.
#1 Sportsbook Online for Americans

Good deposit bonus, lot of unique bets & props. Excellent mobile & live betting.
MLB Betting Tips:
One team that dropped out of the race is the Pittsburgh Pirates. A week ago they were right in this thing, but after losing seven straight games it looks like their Wild Card hopes are dead. They had a weird season as they sold at the deadline and tried to rebuild their rotation on the fly and then got hot, but it appears to be over. The Cardinals -130 should be able to capitalize on that tonight with rookie starter Luke Weaver going against journeyman Ryan Vogelsong. The Cardinals are pretty locked in while things are bad in Pittsburgh right now and I don't see them getting better tonight.
After starting the season in solid form, Jeff Samardzija has been very inconsistent for the Giants since then. He gets no help from the ballpark tonight as he goes in Coors Field tonight. He'll face off against Tyler Anderson who has looked impervious to his home stadium at time this season. I like the Rockies -126 to pull this one out as I see the Rockies being able to spray the ball against the Shark and the Giants have just not looked good int he second half.
Jake Odirizzi would be one of the best pitchers in baseball if he could transfer the way he plays at home to all of his starts. I suppose you could say that about a lot of pitchers though. Luckily for us, he's at home tonight and facing the Orioles and Yovani Gallardo. The Orioles' starter is not very good and has been hit very hard at times this year. They don't have much to play for, but the Rays -126 are used to playing spoiler at this time of year and should do so again tonight.
The Detroit Tigers just find a way to win. I don't quite get it or see why this team is so good, but here they are. Again. The Tigers -111 get a good match-up tonight against the lowly White Sox and Miguel Gonzalez. They can definitely hit him and Matt Boyd has looked good of late. They should make hay tonight and if the above pick comes in as well, find themselves alone in the second Wild Card for the first time.
#1 Sportsbook Online for Americans

Good deposit bonus, lot of unique bets & props. Excellent mobile & live betting.