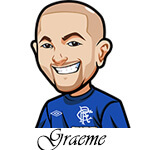 Hey guys,
So first of all I have to lead with an apology – there was an issue with the website last week that resulted in some of you likely missing out on a pick. And it was a winning pick and the difference between a winning and losing week 🙁
I've mentioned it here before that I also write my betting tips at SportsBettingTips.org occasionally. I made a deal there that I would throw in an exclusive pick there – however I could also post it here.
I would just have to put it behind the "social block" where you have to share or like it via Facebook or Twitter to see what the tip is.
Well that tip last week ended up being Harris English, the eventual winner of the tournament after a playoff. I put it here under the social block – unfortunately I hadn't updated the plugin recently and didn't realize that it was no longer working.
Brian, one of my readers who subscribes to both sites, e-mailed me asking why I hadn't posted the Harris pick on here. I had a quick look and realized it wasn't showing up if not logged in (which I am), updated the plugin and it showed up then.
The three people who have tipped me since I installed the tip box were able to see it though so at least I have that. I'd feel sick if they had missed that. Still feel like crap though.
That was Wednesday afternoon so hopefully some of you at least got to see the pick or you saw it already over at SportsBettingTips although based on the lack of social shares that doesn't seem to be the case. My apologies to those who didn't.
I will make sure in the future that I will add a note that there is a pick hidden below the social block, then if for some reason you don't see the social block you can shoot me an e-mail or tweet or whatever.
On the bright side Harris wasn't the only cash last week. He went to a playoff with the 45/1 Joaquin Niemann which meant we got a cash on that one!
That was pretty freaking cool picking the 1st and 2nd guy. It was also neat being able to relax and not care too much about the actual playoff result too much. Alas, tainted by that bloody issue with the exclusive pick.
Here's the betting slips: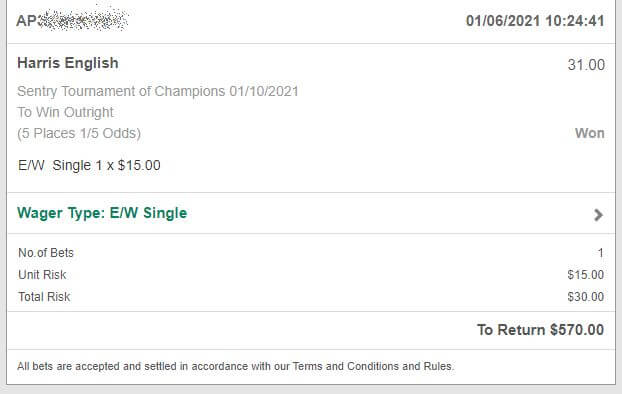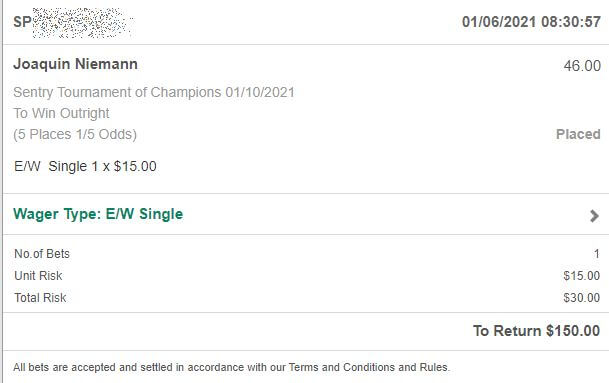 Let's get on with the tips:
Sony Open 2021 Betting Odds:
Webb Simpson: 11/1
Collin Morikawa: 14/1
Harris English: 14/1
Daniel Berger: 14/1
Sungjae Im: 16/1
Hideki Matsuyama: 20/1
Joaquin Niemann: 22/1
Abraham Ancer: 28/1
Cameron Smith: 28/1
Kevin Kisner: 28/1
Sony Open 2021 Betting Tips:
Putting is a big factor here.
$250 on Kevin Kisner Top 10 Finish:
This is a tricky one in the sense that he ticks all the boxes to make it worth a bet including course form – but I struggle to see him winning.
He really fits that "solid but not spectacular" role for this tournament it feels like. He's had some solid form here with three top 5 finishes since 2016. I do feel there is value on his price though.
I initially was going to back him to win & E/W but have decided I feel more comfortable looking for him to finish in the top 10. (I'm also trying to motivate myself to do more of those type of picks).
USA: +360 at Bovada
Canadians: 3.60 at Bodog
Everywhere Else:14/5 at Bet365
---
$50 on Cameron Davis to win & E/W.
Long shot bet here. He popped up on my metric systems more than anything else. Finished last year struggling of course but he got a 9th place finish last year. He's a very streaky golfer so let's hope we're catching him at the beginning of a good run.
USA:+12500 at Intertops
Everywhere Else: 125/1 at Intertops
---
$75 on Sungjae Im to Win & E/W:
Similar to the Neimann pick last week – I just can't seem to get away from Sungjae here. I honestly am not a fan of the price and tried to talk myself out of it. But this is one that I'd be mad at myself for if I don't place at least something on him. His putting needs to be better this week though.
USA: +1600 at Intertops
Canada: 18/1 at Sports Interaction
Everywhere Else: 16/1 at Intertops
---
the SBT Exclusive Pick is below and this week only, due to my mess up last week, I will not put it below a social block. Seriously – sorry about that guys.
The SBT Exclusive pick for this week is a big long shot bet on Brian Gay. He's been solid enough here. We saw him take down the Bermuda Championship and then he looked fairly solid at the Tournament of Champions.
He's a great value bet. I'd wager $30 on him.
If you're looking for additional bets or to fill out a team for daily fantasy sports, I was very close to backing Ancer, Swafford, Palmer and Todd.
USA: +20000 at Intertops
Everywhere Else: 200/1 at Intertops