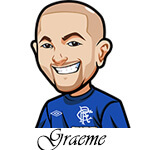 Follow @SBTSportBetting
Hi everyone,
I'm going to cover some of the games on this weekends English Premier League plate and Scottish Premier League plate.
I don't normally do soccer tips here however if you're interested in following my soccer tips, check out my Daily Soccer Betting Tips Website.
I post betting tips there each and every day and cover a wide variety of leagues not just the main ones. Just coming off a big 3u play on Real Salt Lake the other night! They gave the Revolution a good 4-1 thrashing.
EPL Betting Tips:
First up is Chelsea to win. We all know Man Utd have their issues but even if you ignore all that the fact is Chelsea are just a much better and stronger team. It's at the point where I wanted to go with Chelsea -1 but decided to reel myself in. Man Utd come into this statistically struggling as they can't stop conceding goals with very poor defensive efforts and Chelsea should take advantage.
I'm also on Bournemouth to win and think we are getting a great price on them. They're 6th in the league and honestly look like they belong there. If their defense was a bit better they could be looking at Europe.
Southampton however have lost big time three games in a row and I think Bournemouth make it four.
I'm also going with a gut feeling bet on Newcastle to win. If they don't win here there's honestly no hope for them.
I believe they win for the first time this season and they are better than their record. They have had a brutal schedule and away against teams on what I believe is the same level as them, they locked in two draws.
At home I believe they have what it takes.
SPL Betting Predictions:
For the record these are generally statistical picks with a combination of team and player stats, and a strong focus on xG, xGA etc.
You can bet the Scottish Premier League here.
First up is Celtic and Hibs to go over 2.5 Goals. I'd said for a few weeks now on BetSoccer.ca that Celtic were due to give someone a hiding and it finally happened with that 6-0 win. I see that continuing. Hibs are a team who rely a lot on long range goals at the moment and I've got to think they'll struggle to get in the Celtic box so will stick with that – which should also add to the tally here.
I'm going with Hearts and Aberdeen to Draw. Aberdeen are pretty solid away while Hearts are hitting their expected rates for goals so I see that continuing. Can see this being a 1-1 or 2-2 match.
I'm also backing Livingston to win. Think they get a low scoring win although this is only a small bet. Unit sizings are at the site BTW.
I'm also going with Kilmarnock to win and this is a bet I really like. St Mirren probably can't score here as they go up against the third bese defense with the worst offence. St Mirren have issues as the forecast doesn't suggest they can turn around their offensive woes. Kilmarnock have the goals coming in and while a drought for them is upcoming I don't see that against St Mirren.
Final two bets are Motherwell and St Johnstone BTTS and Rangers -1.
You can bet the Scottish Premier League here.
Follow @SBTSportBetting