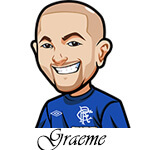 This week in golf, we've got the Tour Chapionship and Porsche European Open.
Last week was one of those weeks where even though we won, it was very frustrating. It was like winner, winner chicken dinner – except with broccoli on the side.
I had tipped Francesco Molinaro for a Top 20 Finish. I said last week I felt he would be able to scrape into the Top 20 but I didn't see him getting in the Top 5 or contending.
Boy was I wrong.
Molinari only went and bloody won the thing. Major props to him of course but oh man was that a kicker.
Here's the winning betting slip:

And a nice little reminder that he was 28/1 to win! Oh well it happens.
Let's get onto the tips this week:
Tour Championship Betting Picks:
This is quite a tight one and there's not too much value unfortunately.
However I do believe there's some slight value thanks to Dustin Johnson. If you asked me who I would bet on I would say Johnson without fail – but looking at the odds, I just can't justify it. He's 5/1 and considering the quality of the players in this tournament it just makes that an impossible bet. I wouldn't bet any one of the field at that price.
However that makes the others odds more attractive – so first up is Mr. Jordan Spieth;. Spieth is one of, if not the best golfer in the world and even though he's not tearing it up at the moment you know Spieth always has the ability to do it.
I backed him at 6/1 a few months ago at the D&D Invitational to Win. I also correctly predicted he would win the Tour Championship last year – here's the betting slip for that one: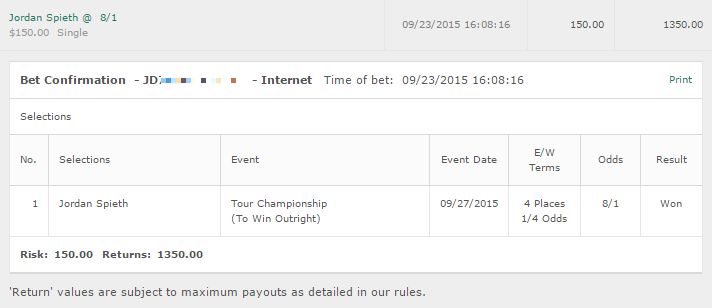 I've got to take Jordan Spieth to win again at those odds. The price is just too good to ignore in my opinion.
I'm also making a half bet on Paul Casey to win & E/W. He's performed here twice before and both times saw him get a Top 5 finish. He's also coming into this with some solid form and I feel good backing him here to do the business.
That's my only betting picks for the Tour Championship.
Notable Upcoming Bets:
European Open Betting Picks:
There's not too much data we can use for course history unfortunately for this one. There are other tournaments outside the European Open that have been played here but I can't in good faith count them other than for covering the basics.
I'm taking 4 bets all for a quarter unit for the European Open.
There are a few golfers who have stuck out to me for this one, and they are Scott Hend, Rikard Karlberg, Richard Bland and Alejandro Canizares.
Hend performed well here the prior year and is a great value pick. Karlberg I liked last week and he's looking like he is still on form despite a poor end to las weeks tournament. Bland is someone who seems like his form may peak here and finally Canizares did well here last year.