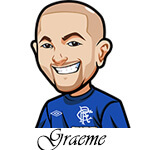 Follow @SBTSportBetting
Welcome to the sports tips for Wednesday, November 14th!
Love the midweek as it gives me a lot of action to cover.
Just on a regular day to day basis we've got NHL and NBA. We've got the weekly golf tips, CFL playoff tips and hey let's throw in some UEFA Nations League Tips for y'all.
Lotta stuff to bet so let's get right into it shall we?
Golf Bets:
Two golf tournaments I'm handicapping this week which are the RSM Classic and the DP World Championships.
The RSM Classic I'm going with JJ Spaun To Win/Top 5. Spaun is coming in with some good form and the price just seems way too high considering how weak the field is.
For similar reasons I'm backing C.T. Pan.
Also liking Jim Furyk and all three of these are to win and Top 5. Furyk performs well at this course and has been playing well lately so I feel good backing him at 45/1 odds.
I've also got two smaller bets on Bud Cauley and Kramer Hickok.
Cauley has performed here well in the past and now he is apparently back and full health after the car accident I see him going from strength to strength. Hickok is someone who just performs well based on the expected metrics for this course.
Over on the DP World Tour Championships it's a bit trickier and I advise small bets.
Jon Rahm to win is my first one. He owned this course last time out and it just seems to suit him so well. Price is going down on him as he was 14/1 to open the week now 10/1 so the bookies obviously fearful of a Rahmbo win.
Francesco Molinaro at 20/1 is a bet I gotta make – to win and Top 5. You know he wants to end things with a bang and will be extra motivated despite some poor performances as of late.
I'm also backing Ian Poulter and Dean Burmester. Both to win and Top 5. They just have a few little things going for them on this course that I think justify a bet despite their high odds.
NBA Tips:
3 bets in the NBA this evening.
Cavs/Wizards Under 218pts is the first play. Cavs on a B2B so either their offense won't be able to hang with the Wizards due to fatigue or their defense will continue to step it up and show improvement and neutralize the growing in confidence WIzards offense. Either way benefits the under.
Time for the San Antonio Spurs to put fear in home opponents again with a big win over the Phoenix Suns. Little bit of adjustement with Gay back in the lineup but I like them firing on all cylinders tonight and to get a repeat performance of their 120-90 victory last time in Phoenix.
Finally Under 224.5 points in Lakers vs Blazers. Chandler has been a good addition to the Lakers and added a better foundation for them. We're seeing games go under with him backing McGee up and I like that to continue.
NHL Tips:
When the Washington Capitals are big underdogs you take them. Anything better than a coinflip is a nice price and +145 is a steal. The Winnipeg Jets are a team that struggle a lot with motivation and while they rightfully should be favourites, this is truly a coinflip of a game and I'm happy to take the side that pays out more.
CFL Tips:
I'm just too much of a fan of the Tiger-Cats offense and I am going to take Tiger-Cats +3.5. I love that we are being given the poitns here and if they don't win they should be able to keep it nice and close.
I'm also going with Blue Bombers +5. I mean you look at the Stampeders they are favourites based on their legacy – not current play. They've been very poor lately. If they turn it around and make it to another Grey Cup then props to them man but I can't touch them based on how bad they have been as of late.
UEFA Nations League Tips:
These ones are for Thursday, November 15th.
I'm going with Belgium -2. Iceland have been a disaster and I think with Belgium and Switzerland so tight that Belgium will look to run up the score.
Finally small bet on Luxembourg to win. +200 odds is a great price considering their form and that Belarus can't play defensive football – they NEED a win and that will change their dynamic. Might be too tough for them.
Follow @SBTSportBetting