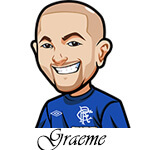 Soooo freaking close last week yet again.
We had the 55/1 Ryan Palmer in the Farmers Insurance. He went into the final round right up there at the top and was looking good for a cash as long as he didn't have a disastrous day. Alas he hit a +5 with multiple bogeys which was brutal.
Tough one that. Always frustrating when they are right there and then just collapse but that's golf and it happens often especially for those long shots.
Let's get onto this weeks golf.
I quite liked what I did last week where both tournaments I went with a combined total of 1u. I'm not going to force myself to do that every week but when there is an opportunity for it, I will.
Waste Management Phoenix Open Betting Tips:
Love the finish to this course. When things are close it can lead to some real excitement.
One of those bets I am going to make but can't advise is Adam Hadwin. He shows up in the metrics here and a tipster I respect backed him. In saying that he's never cracked the top 10 here and hasn't played in awhile. Generally when I advise tips here it's because I do believe they will win or at least contest in the Top 5. This is a real gamble and one I can't advise.
Gary Woodland: 28/1. To win & E/W. 1/2u. It's easy to look at a golfer and then write them off after missing the cut. However it just wasn't Woodlands week last week and he still played solid enough. That secound round was almost completely even then he had two birdies at the end. He had a few disasters in round 1 and I liked the way he handled round 2. He's been playing well up to this, has some sensational form and after the way he butchered round 1 last week I think he will be very motivated here to put that behind him.
Bubba Watson: 30/1. To win & E/W. 1/2u. Bubba is one of those guys who you watch play and you think "this guy is going to win a tournament very soon". Just the way he is playing. This could be the tournament. That 6th place last week shows he is really playing good golf and he has excellent course form here. This could be the tournament.
Ryan Moore: 66/1. To win & E/W. 1/8u. When you look at players who perform well on a particular course Moore is right up there as a big course form kinda guy. He has missed the cut the last couple of years but he has started well this year and campaign in general and stands out in the metrics.
Branden Grace: 45/1. to win & E/W. 1/8u. Played very well here last year and is playing great golf. Only issue is jet lag could be a big issue for him.
Not going to bother with the Saudi International this week. Only one year of course data and looking through it, nothing really jumping out at me.