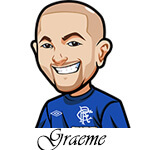 Valspar was a disappointment. Our main bet was on Corey Conners. I was disappointed as he really just couldn't get going could he? Ended up tied for 21st at -5. Solid enough but not good enough for us obviously.
We had two very long shot bets on Keith Mitchell and Sam Horsfield. The 125/1 Sam Horsfield didn't make the cut, and the 140/1 Keith Mitchell was actually hanging in there – until the last day, when he went from -2 to +9 with a +11 day. Yikes!
Getting these in late so I'll just focus on the Wells Fargo this week.
Wells Fargo Championship 2021 Betting Tips:
I was really hoping Will Zalatoris would pop up in the metrics for Quail alas that is not the case. Playing great at the moment and nice and rested so will be interesting. Would be a purely gut play though and not one I can back.
This is the type of random tournament where Dechambeau could just show up big.
$125 on Max Homa E/W at 35/1:
Last time winner of course. So we know he can play here. Metrics wise this season is on there in the top 20 for me. Playing some damn good golf right now. Just really looking good.
---
$125 on Joaquin Niemann E/W at 33/1:
His game at the moment should really suit this course. Playing some solid if unspectacular golf. The type of guy where I'd probably be more prone to looking at a top 20 place but going to take a shot here. 11/8 for Top 20 is a decent price though and tempting. Just prefer the risk on him this week.
---
$62.50 on Patrick Cantlay E/W at 33/1:
He has no real course form and his current form is absolute gash but the price is nice for someone of his ability. I think he actually matches up with this course well. I decided to back him if he drifted to above 30s and at 33/1 it's a small play.