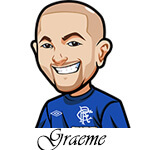 Follow @SBTSportBetting
Well I skipped last weeks golf betting tips – and man, that sucked.
I usually do the golf every Wednesday covering the PGA, European, LPGA and Champions Tour. However last week I just wasn't feeling it and decided to skip it.
Boy did no bets at all make me lose interest in golf.
It's funny as usually I am glued to the golf over the weekend. Even if I have no runners left from a betting perspective I find that I get hooked in the early rounds by a few golfers and stick around to watch them play. I even get some live betting going on.
Not this week.
With no bets I ended up skipping the early rounds and then after the cut I put it on and I just couldn't focus. It was playing in the background but I just didn't care one bit.
So even if I don't have any tips I understand that I should still throw a few random bets on. I just can't find any interest in watching golf – unles it is a major – without some betting action to get me into those early rounds.
This week I'm only covering the PGA and LPGA.
Notable Upcoming Bets:
Wells Fargo Championship Predictions:
We made money on Phil Mickelson and his Top 5 finish last year. I'd love to bet big Phil again but man – his form at the moment is so bad I just can't bring myself to do it. Would love to see him get out of this rut he is in though. Would be nice.
We're going to take the favourite Rory McIlroy to win at 4/1 odds. Now to be honest I usually don't go that low – I think my lowest ever bet was on Jordan Spieh at 8/1. Actually a quick check and that's not true – I bet Rory to win the DP World Tour Championship at 5/1 and he came through.
I just think this is the perfect time for Rory. His form has been erratic but this is a tournament and course that he knows extremely well, and has performed well at. Honestly it's probably not an +EV bet but I just have a very strong feeling about Rory this week.
I'm also going with Patton Kizzire for a Top 10 Finish. He's never played on this course yet but I think he is suited for it and most importantly his form is excellent at the moment. I've really liked what I have seen from Kizzire the past few weeks. I'll also be placing a small bet on him to win & E/W because the field at the top isn't the most solid and he may just find this course suits him more than we expect.
My last bet in the Wells Fargo Championship is on J.B. Holmes to win & E/W based on his form on this course and how he has looked the last couple months.
LPGA Betting Predictions:
Only the one bet this week and it's on Mi Jung Hur. At this very course two years ago she made is $4,000:
And we'll be hoping she does it again.
Follow @SBTSportBetting