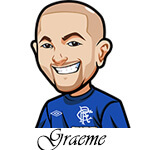 Follow @SBTSportBetting


[Get Exclusive Tips on our Patreon, Ad-Free
]
It's a pretty stacked week in golf this week. We've got the WGC Fed Ex St Jude Invitational, the PGA Barracuda Championship and the Hero Open on the European Tour.
There's also the Korn Ferry Tour with the Pinnacle Bank Championship, The Ally Challenge on the Champions Tour, and the LPGA even has the Drive On.
Unfortunately it's a busy time for me right now with NHL and NBA returning as I do a lot of gambling and gambling betting tips on those. I was hoping to get to the golf bets and tips on Tuesday but never had a chance and am just getting to it now. So I'll cover what I can but with a lot of tournaments it's a very casual week.
One big change I am looking to implement is changing unit sizes to dollar amounts. I have a green box on the page now that should appear just below my avatar explaining that and also explaining just how my E/W bets work.
The reasons are threefold and I will quickly explain them so I can refer back to this if anyone asks:
1) I have a lot of new visitors who e-mail me confused. They're used to seeing unit confidence in 1-5u or something like that. Not 1/8u or 1/4u. It makes it confusing when you look through my betting slips archive too and see dollar amounts with no correlation to how much that is.
2) I rarely bet a full unit. Hell I rarely bet 1/2u. My most common bets are 1/8u and 1/4u. If anything my bets each week end up adding up to a full unit. Based on that I think it makes sense to just list dollar amounts instead as it feels like a real lack of confidence in bets when that's not the case obviously.
3) I'm working on a spreadsheet listing every bet I have ever made on the site. It's something I have put off because it is a bit of a mess – in the first few years running the site I had separate betting amounts for each tour and often each course. So 1u on the PGA tour might be worth only 1/2u on the Champions Tour etc. I finally figured out that the best method was to convert those to current dollar amounts.
So we'll see how it goes. It's possible I end up hating this and want to go back to 1/4u or 1/8u etc but I'm up for giving it a try.
Right time to look at every tournament this week and see what's worth playing.
WGC Fed Ex St Jude Betting Tips:
The big takeaway from this course? You have to be firing on all cylinders. That's pretty much it. Course form is certainly a big part of it but you also really need to be playing well.
Speaking of playing well boy do I want to back Ryan Palmer. At 140/1 he's someone I am probably going to bet a small amount on but just can't advise ya know? If you look at his history he doesn't get on a streak at all. Almost every big finish is followed by missing the cut.
$500 E/W on Webb Simpson at 22/1. Hard not to love Webb. Plays best in the South. 2nd place here last year. Suits this course. Missing the cut at the Memorial was a concern but hey just remember how that worked out when he missed the cut at the Charles Schwab. Spoiler: he won the next tournament.
$250 E/W on Patrick Reed at 35/1. A 12th place here last year and he hasn't played here in awhile. He's playing well and last year he actually had a really weak start that caused him. Reed looks like someone that likes playing in these tournaments and I think he can contend as long as he gets off to a better start.
$125 E/W on Billy Horschel at 45/1. Billy Boy is in solid form with a 13th place and a 7th place in his last two outings. He always performs well here with 5 top 10 finishes in his last 6 tournaments here. Only cracked the Top 5 once but the field isn't as top heavy so with his form I'm good for it.
$62.50 E/W on Chez Reavie at 125/1. One of the more decent performers since the PGA returned. Doesn't really stand out on the metrics here too much however you can't ignore two top 10 finishes in the last 3 years on this course. I like the way he is playing.
Due to time constraints the WGC is the only event I will write about here this week. I have that "tip box" below – honestly what I write there is completely true. If I was making money directly from this site it'd encourage me to spend more time writing about the other events (which I do collect data on and bet personally). I'm not saying to drop everything and start sending me cash or anything – just hey; if any of the above make you money don't forget where they came from 😉
Have a great week.
Follow @SBTSportBetting